J.M.Barrie
"Every time a child says 'I don't believe in fairies' there is a little fairy somewhere that falls down dead." (J.M Barrie - from Peter Pan)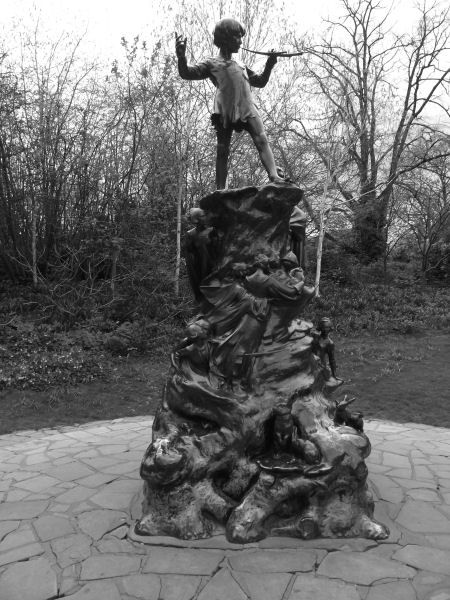 Peter Pan appeared by name in Barrie's adult novel THE LITTLE WHITE BIRD. It was a first-person narrative about a wealthy bachelor clubman's attachment to a little boy, David. Taking this boy for walks in Kensington Gardens, the narrator tells him of Peter Pan, who can be found in the Gardens at night. The author was James Matthew Barrie better known under his pen name, J.M. Barrie. Born in Kirriemuir, Scotland, in 1860, the ninth of 10 children. Two of his siblings had died before he was born. His birthplace is now a National Trust museum. When Barrie was six, his brother David died just before his 14th birthday in a skating accident. To try to comfort his devastated mum, James wore his brother's clothes and whistled like him. He wanted to be a writer but was persuaded by his family to go to Edinburgh University. He wrote drama reviews for a local newspaper and went on to spend 18 months working as a journalist in Nottingham.
Barrie established himself as an author with novels about Scotland based on pieces he had written for a London newspaper, inspired by his mother's stories about Kirriemuir. He married actress Mary Ansell in 1894, having met her when she appeared in his play Walker, London. They divorced in 1909 after her affair with another playwright and author, Gilbert Cannan. Despite his marriage, Barrie had a close relationship with Sylvia Llewellyn Davies, whose five boys George, John (Jack), Peter, Michael and Nicholas (Nico) was a major inspiration for Peter Pan's Lost Boys. After the death of Sylvia's husband Arthur, 'Uncle Jim' supported the boys financially and later became one of their guardians when Sylvia also died. Barrie's most famous creation, Peter Pan, first appeared in his 1902 novel The Little White Bird. Peter Pan, or The Boy Who Wouldn't Grow Up, was first performed in London in 1904. It was transformed into the novel Peter and Wendy, published in 1911. The royalties from the Peter Pan series were assigned by Barrie to Great Ormond Street Hospital from 1929.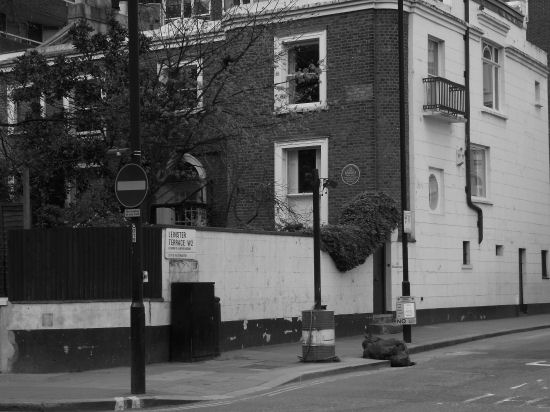 J.M.Barrie's house in Bayswater Road
He was friends with Sherlock Holmes writer Arthur Conan Doyle, asking him to revise and finish his attempted comic opera, Jane Annie. Robert Louis Stevenson, based in Samoa at the time, was a pen pal, George Bernard Shaw a neighbour, Thomas Hardy an acquaintance, and HG Wells a friend, the science fiction writer trying to help Barrie as his marriage fell apart. Conan Doyle, Wells and Barrie played cricket together for the Allahakbarries, a team founded by Barrie. A friend of Captain Scott, he was one of the seven people Scott wrote letters to as his death approached on his South Pole expedition. Barrie was involved in the 1909 and 1911 attempts by playwrights to challenge the Lord Chamberlain's censorship of the theatre but went on to be made a baronet - becoming Sir James Matthew Barrie, 1st Baronet - in 1913. He died of pneumonia in 1937, leaving his estate (except Peter Pan) to his secretary Cynthia Asquith. The statue of Peter Pan in Kensington Gardens, erected in secret overnight for May Morning in 1912, was supposed to be modelled upon old photographs of Michael dressed as the character. However, the sculptor Sir George Frampton decided to use a different child as a model, leaving Barrie disappointed with the result. 'It doesn't show the devil in Peter,' he said.
London Time

The contents of this website are the property of knowledgeoflondon.com and therefore must not be reproduced without permission. Every effort is made to ensure the details contained on this website are correct, however, we cannot accept responsibility for errors and omissions.

Contact Us | Advertise