London Theatre The London Palladium
Argyll Street W.1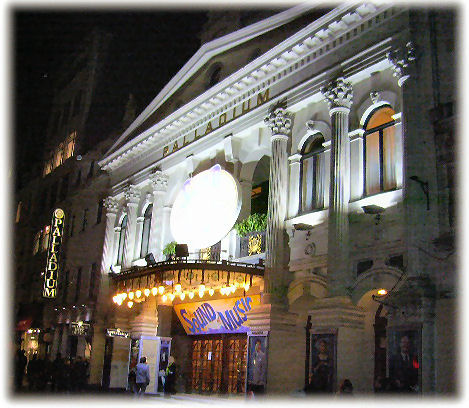 During the 1880's there was a long time circus on this site called Hengler's Circus. The Palladium was built by the architect Frank Matcham in 1910 being renamed The London Palladium in 1934. One of its longest running shows was the Crazy Gang with Flanagan and Allen from June 1931 until October 1939. Another long runner was A.T.V's - Val Parnell's
Sunday night at the London Palladium.
The first show was on 25th September 1955 and featured Gracie Fields with the hit-making United States singer Guy Mitchell. The show was hosted by the cockney comedian Tommy Trinder. The next host after Tommy was (I'm in charge) Bruce Forsyth, who made his popularity from this show. The next after Bruce was Norman Vaughan, with his thumbs up Swinging - thumbs down dodgy. After Norman, Sunday Night at the Palladium went into a decline and try as ITV may it never made that same big impact again. The London Palladium
The Story of the theatre and its stars
By Chris Woodward The ultimate book of the London Palladium. Sit back and enjoy this definitive book of this World Famous theatre.
London Time

The contents of this website are the property of knowledgeoflondon.com and therefore must not be reproduced without permission. Every effort is made to ensure the details contained on this website are correct, however, we cannot accept responsibility for errors and omissions.

Contact Us | Advertise