The London Tube
Paddington Originally named Bishop's Road and was the western terminus for London's first underground line the Metropolitan Railway, and was opened on the 9th January 1863. The first station on the line to be built was Edgware Road, and the name Hammersmith and city line was first used in 1868, when the Hammersmith station was first open, being the start of the line with Farringdon station being the finnish of the line. Over the years the line has extended and now ends at Barking in east London. Just recently the underground has been used for bombing by terrorists, although the first bomb attack on the London underground was in protest of home rule in Ireland, and took place on the 30 October, 1883 in the tunnel between Charing Cross and Westminster stations, with another explosion at Paddington's Praed Street Station, injuring over 60 people. In 1885, another bomb exploded at Gower Street station on the Metropolitan Railway. More bombings took place during the April of 1897 when an anarchist group took revenge for one of their members who received a seven year sentence by leaving a bomb at Aldersgate station, now renamed Barbican Station since 1968.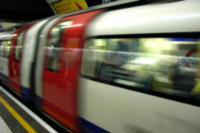 Station Curiousities
Aldgate Station was built on one of the largest plague pits where more than 1,000 people where buried over a two week period in 1665.
Sloane square station has the river Westbourne flowing over station in a large visible pipe. During World War II in 1940, two German bombs fell on the station while two trains were there killing many people. The station remained closed until 1951 for the festival of Britain,
re-opening at that time as it was the closest station to Battersea funfair.
Farringdon station has the river fleet running along side.

Aldwych station was first called Strand station, during the second world war it was closed and used to house the British museum treasures including the Elgin Marbles. It reopened in the 1940's then closed for the last time in 1994, it was used in a few films including An American Werewolf in London

Embankment station was built on the Warren Blacking factory site where Charles Dickens worked as a boy.
Temple Station was opened in 1860 with a grand promenade on the roof, it was closed because it attracted to many prostitutes.
Bank Station believed to be haunted, as it was buit in the crypt of St Mary Woolnoth church
Another station said to be haunted is Bethnal Green Station, where on March 3rd 1943 a panic rush during an air raid where 1,500 people stampeding down the stairs, someone fell and caused 173 to die in ninety seconds.
Earl's Court housed the first escalator and opened in 1911 where a man named Bumper Harris, who had a peg leg was employed to go up and down on the escalator to reassure passengers of its safety. Also part of the station was used for the manufacturing of torpedoes in the Second World War.
Kings Cross had a disaster on the 18th of November 1987 when a fire took the lives of 31 people.
There are just two stations that take their name from pubs rather than place names, they are Swiss Cottage and Manor House.
Barons Court the nearest station to the Queens Club tennis courts has church pews as seats for waiting passengers.
Stockwell station opposite the Oval Cricket ground was used as a hostel by American G I's in world war II.
Hampstead Station chosen as London Transport emergency H.Q in the event of a nuclear attack as it is the deepest station at 192 feet below ground level.
Chancery Lane Station was opened in June 1934. When boring the tunnel the contractors struck the old river Bourne which once flowed across Holborn to the river Fleet. On that account the escalators have been enclosed in an iron tank and the walls of the station lined with extra steel supports.
---
Acclaimed artist Michael Landy brings Acts of Kindness to the Underground
Customers and staff invited to submit stories of kindness seen on Tube
Art on the Underground presents Acts of Kindness – a new art project for stations and trains on the Central line created by Michael Landy, one of the UK's leading artists, in collaboration with London Underground customers and staff. This project celebrates the ordinary acts of generosity and compassion that take place every day on the Tube.
From 18 June, Acts of Kindness invites users of the Underground, as well as Central line staff, to share stories of kindness that they have witnessed or been part of while travelling by Tube or on duty. Customers should look out for posters across the Tube network or go to art.tfl.gov.uk to submit their stories.
Landy will select from these stories and place them as poster artworks in stations and trains along the Central line, adding more to look out for over time. The first Acts of Kindness stories will be debuted at four Central Line stations from the weekend of 23 July. More stories will be published at the Acts of Kindness web page. In the future, trains travelling on the line will also carry the stories.
Michael Landy is interested in small, fleeting exchanges of kindness as much as heroic acts. Commenting on the project, he said: "Sometimes we tend to assume that you have to be superhuman to be kind, rather than just an ordinary person". Landy first began thinking about the idea behind Acts of Kindness in 2001 immediately after making his work Break Down. For Break Down he destroyed all his possessions, from his birth certificate to his car. The experience of being left with nothing helped him reflect on what we are aside from what we own, and on the value of feeling part of a common humanity. "One of the questions that motivated Break Down", he says, "was what makes us human, more than just being consumers.
"I guess I wanted to take that a step further. I was looking for the right situation to explore what value kindness has, what it means, and what kind of exchange is involved in giving someone a helping hand".
He found the situation he was looking for in London Underground when he witnessed two strangers, one trying to help the other. "I'm interested in what sort of exchange happens between strangers in an act of kindness. It's a gesture of trust between two people. There's a risk in that. They may just ignore you or take it the wrong way.
"I'm fascinated by when you see people prepared to give up something for somebody they don't know. It's a remarkable moment. It's unexpected, life-enhancing. I think sometimes it's easier to remember those times when people have been unkind. But once you start to notice kindness you see it happening more and more". Munira Mirza, Cultural Advisor to the Mayor of London, said: "Art on the Underground is one of the world's most innovative public art programmes, showing works by leading artists and enlivening the environment of the Tube for millions of passengers. This latest commission by the well-known British artist, Michael Landy, helps capture the character of London Underground and the city it serves." Tamsin Dillon, Head of Art on the Underground, said: "I'm sure Michael Landy's Acts of Kindness will provoke a range of very interesting responses and I'm looking forward to seeing new stories of kindness appearing on the Central line.
"This project is Michael's response to our invitation to make a new artwork for the Underground and his intelligent approach has lead to a project with exciting potential in this challenging context".
Moira Sinclair, London Executive Director of Arts Council England, said: "Many people view the Tube as a functionary part of living in the capital, as they dash from place to place and bury their heads in a book or the newspaper. What Michael Landy's project will capture is the interactions between people on our iconic transport system, reminding us all that we have and need connections and celebrating both London and Londoners in the process."
Posters designed by the artist, inviting users of London Underground to share their stories, will go live on the Tube network from the weekend of 18 June. Passengers will also be able to find out more and submit their stories at art.tfl.gov.uk from 18 June.
The content of this website is the property of knowledgeoflondon.com and must not be reproduced without permission. Every effort is made to ensure the details contained on this site are correct, however we cannot accept responsibility for errors and omissions.



About Us | Contact us | Advertising