The Cenotaph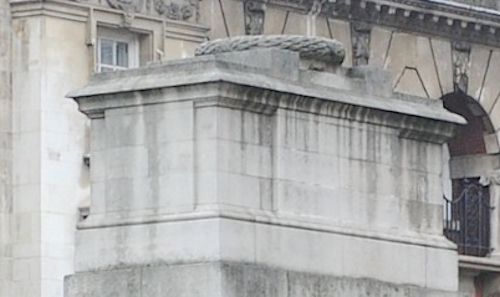 The Cenotaph - The Empty Tomb

November is the month when all eyes are cast on the Cenotaph in Whitehall – or are they? The word Cenotaph (Greek for empty tomb) actually refers to the flat altar-slab on the top. The obelisk we think of as the Cenotaph is just a plinth to support the tomb. Another curiosity with the structure is there is not one single straight line on it. All the vertical lines are curved outwards because the Greeks discovered that if a column is built with vertical lines, it will give the appearance of narrowing in the middle. The curve outwards gives an optical illusion of straight lines. Even the surface is curved upwards to allow for the illusion. The third curiosity which can be missed is there are no religious symbols to be seen on it anywhere. The reason for this is because it is a memorial to the dead of the British Empire which include many religions other than Christian who fought during the First World War. At the end of the First World War, preparations were made for a Victory Parade through London. The London Victory Parade (also called the Peace Day Parade) on 19 July 1919 that marked the formal end of the First World War that had taken place with the signing of the Treaty of Versailles on 28 June 1919. Soldiers, Sailors and, Airmen from all over the Empire, with contingents from Allied nations such as France, Belgium and the Americans. It was decided that a temporary monument, originally a wood-and-plaster structure, be erected on the route. The architect Edwin Lutyens was given ten days to design and erect the monument which was completed only the night before the parade. For some time after the parade, the base of the memorial was covered with flowers and wreaths by members of the public. Pressure mounted to retain it, and the British War Cabinet decided on 30 July 1919 that a permanent memorial should replace the wooden version and be designated Britain's official national war memorial. The announcement was made on 23 October 1919 that the Portland stone version would be a "replica exact in every detail in a permanent material of present temporary structure".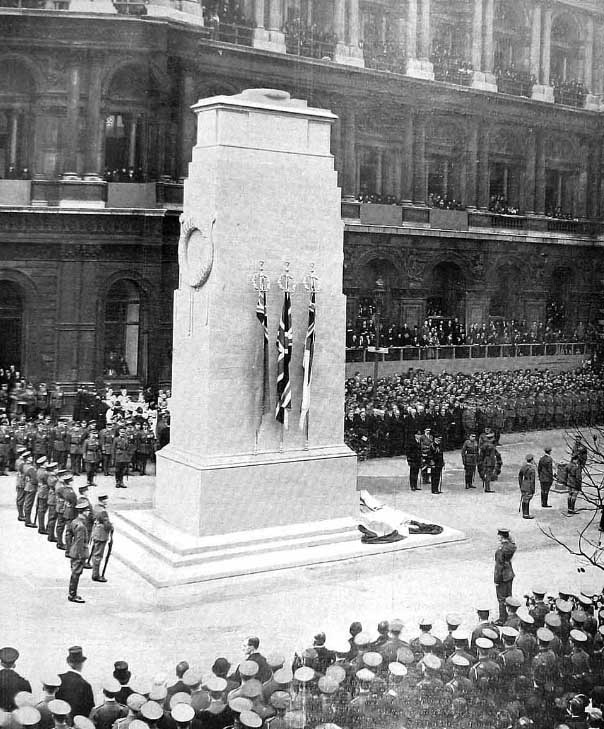 Photograph of the unveiling of the Whitehall Cenotaph, 1920
Picture by Horace Nicholls (1867–1941) Printed in The Graphic, 20 November 1920
The memorial was unveiled by King George V on 11 November 1920, the second anniversary of the Armistice with Germany which ended the First World War.

London Time

The contents of this website are the property of knowledgeoflondon.com and therefore must not be reproduced without permission. Every effort is made to ensure the details contained on this website are correct, however, we cannot accept responsibility for errors and omissions.

Contact Us | Advertise