The Duke of Suffolk's Head
The church of St Botolph without Aldgate used to have a curious showpiece, a head in a glass casket.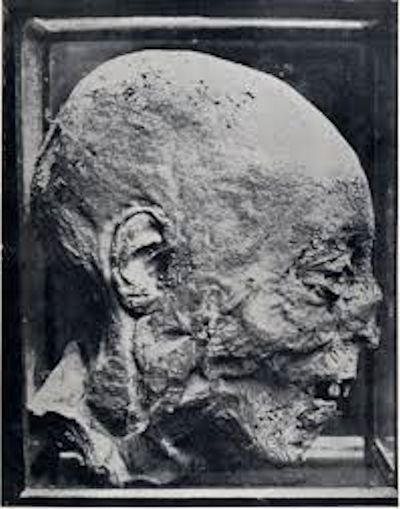 The severed head of the Duke was discovered in a vault in Holy Trinity church, Minories in 1851, perfectly preserved by the tannin-rich oak sawdust used to pad the basket on the scaffold on which he had been executed 297 years earlier. The head might have been hidden by the Duke's widow to prevent it from being exposed on a spike on London Bridge. Both of them had worshipped in the chapel at Holy Trinity. The church was demolished in 1899 and the head found a new resting place at St. Botolph's Church, Aldgate, to which Holy Trinity Parish had been annexed. In 1920, the vicar of St. Botolph's kept it in a glass box inside a locked cupboard and was willing to display it to historians, but not to "mere tourists". The head was examined in the late 19th century by Sir George Scharf, former Keeper of the National Portrait Gallery, who noted a strong resemblance between its features and those in the portrait of the Duke, then in the possession of the Marquis of Salisbury at Hatfield. The ghastly head has not been seen for almost a hundred years, without a word as to the heads final resting place.
London Time

The contents of this website are the property of knowledgeoflondon.com and therefore must not be reproduced without permission. Every effort is made to ensure the details contained on this website are correct, however, we cannot accept responsibility for errors and omissions.

Contact Us | Advertise