The Lincoln Memorial Tower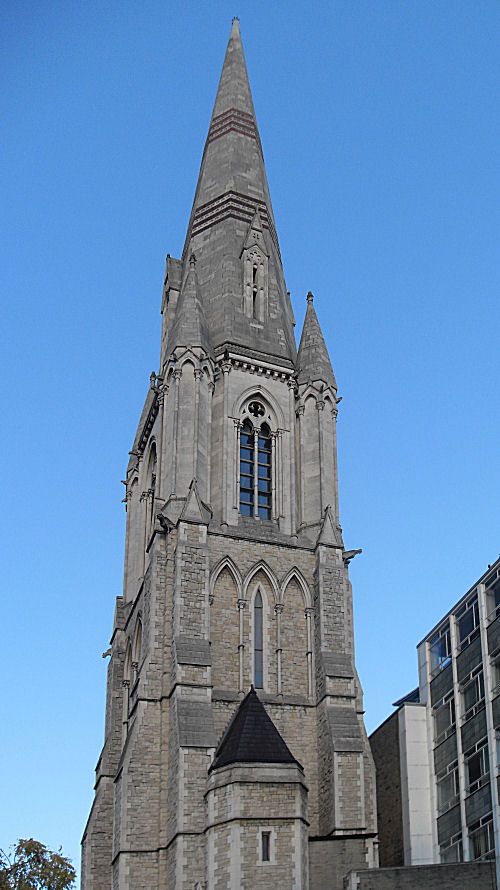 The Rev. Dr. Christopher Newman Hall
had been the pastor of the Surrey Chapel, a circular building, which once stood on the same site as "The Ring" (the boxing arena) and more recently the ground covered by the present day TfL Head Quarters, Palestra on Blackfriars Road. When the Surrey Chapel was demolished in the mid-nineteenth century, it was rebuilt at the junction of Westminster Bridge Road and Kennington Road on the site of a former orphan's asylum for females which was founded in 1758. The new church, re-named Christ Church was completed in 1876 at a cost of £60,000 which also included a tower and spire, paid with American contributions as a memorial to
Abraham Lincoln.
The international Monument to Abraham Lincoln
Rev. Dr Christopher Newman Hall passionately supported the north in the American Civil War. He disapproved of secession by southern states. "England should side with the North." he wrote; "particularly because emancipation of the slaves is just." He felt so strongly that he published one of his few non-theological books: The American War. A Lecture delivered in London, October 20, 1862. Newman Hall visited the United States during the Civil War and published a passionate anti-slavery speech co-authored by Abraham Lincoln and Henry Ward Beecher. The church was hit by a bomb in the air raids of 1940 and the church building was damaged beyond repair. The steeple or Lincoln Tower, however, was unscathed and still stands today. Next time you are caught by the traffic lights at this busy junction have a good look up at the spire. for the stonework is ornamented with the Stars and Stripes of the American flag as our picture above reveals!
London Time

The contents of this website are the property of knowledgeoflondon.com and therefore must not be reproduced without permission. Every effort is made to ensure the details contained on this website are correct, however, we cannot accept responsibility for errors and omissions.

Contact Us | Advertise