Bucket List
As we get a little older, I think most people have some kind of a bucket list. Things that we want to do or see before it becomes too late! I have a large list of my own which I tick off as I go along – but I also have a sentimental conscience which encourages me to complete other people's bucket lists.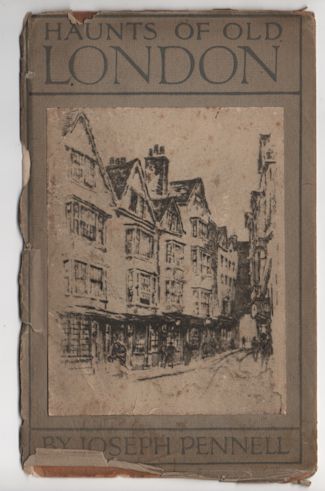 Joseoh Pennell's book
Haunts of Old London
As the editor of the "Knowledge of London" website, I have an extraordinarily large collection of old London books, which I have collected over several years. One such book entitled "Haunts of Old London" by Joseph Pennell published in 1914 has some handwritten notes, written in ink, by, one supposes, the original first owner of the said book during the time of the First World War. On the first page of this book there is a note; E. V. Lucas "The Wanderer in London." Being an inquisitive soul, I had to search out for this book which up to that point I was unaware existed.

My scribblers wish book "A Wanderer in London"
Lucky enough I discovered an excellent hardback copy, and to assist my unknown scribbler of books, I had to do this purchase to help with his bucket list of over a century ago– even though he would obviously now be deceased - I felt I had a moral duty obtaining this book on his behalf. I'm now left wondering if this bucket list from the unknown scribbler and the E.V. Lucas book, published in 1906, had ever been purchased by my mystery note writer – and how many of his bucket list notes he managed to visit.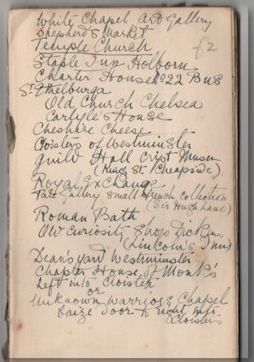 First page of a 1914 bucket list
I will, over time, endeavour to photograph as much as I can on this list – although a good many are already featured in pages on the Knowledge of London website. Send me some of your bucket lists to share on my Twitter account:
London Time

The contents of this website are the property of knowledgeoflondon.com and therefore must not be reproduced without permission. Every effort is made to ensure the details contained on this website are correct, however, we cannot accept responsibility for errors and omissions.

Contact Us | Advertise