The Jubilee Penny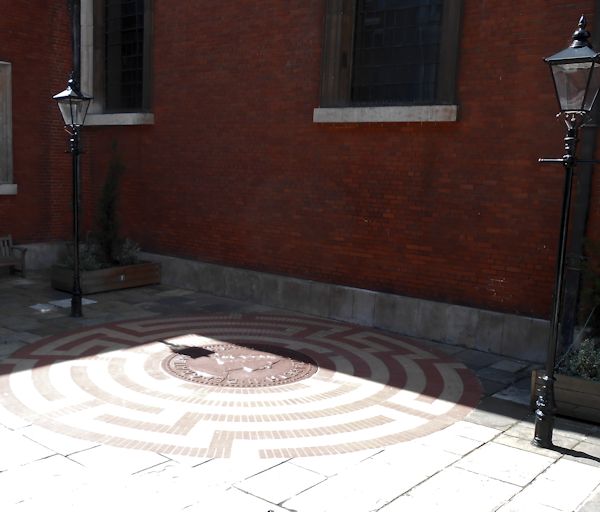 The Diamond Jubilee Garden Penny, Covent Garden
St Paul's Church, Covent Garden
is probably better known as the "Actors Church" – here lies the Victorian actress
Ellen Terry
and contains memorials to
Vivien Leigh
(Gone With the Wind) and music hall star
Marie Lloyd
to name but a few. St Paul's was the work of the
4th Earl of Bedford
who informing the architect
Inigo Jones
that he wanted a chapel, but nothing too expensive, 'nothing much better than a barn, Jones replied 'You shall have the handsomest barn in England'.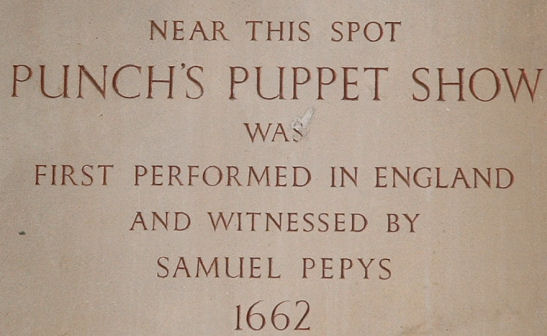 Where Samuel Pepys wathed Punch and Judy
Between 1631 and 1633 Jones erected what was London's first classical building and the capital's first new Anglican church for almost 100 years. Jones kept his word and looking at the building in modern times, it does remind us of a large brick built barn, with the back where you would expect to find the front in the main square. On the wall of the rear of the church,
Samuel Pepys
recorded seeing the first ever Punch and Judy or as the Italian's call it Punchinello preformed by the Italian puppeteer
Pierro Gimonde
, where a commemorative plaque can now be seen. On the South Side of the church is the 'Diamond Jubilee Garden', created to celebrate the Diamond Jubilee of the Queen. It was opened by HRH, The Duchess of Gloucester, on behalf of Her Majesty, on 25 September 2013. It features a giant maze (do have a go at solving it), in the centre of which is a reproduction of Her Majesty's image, as seen on the 1953 (Coronation Year) One Penny Piece.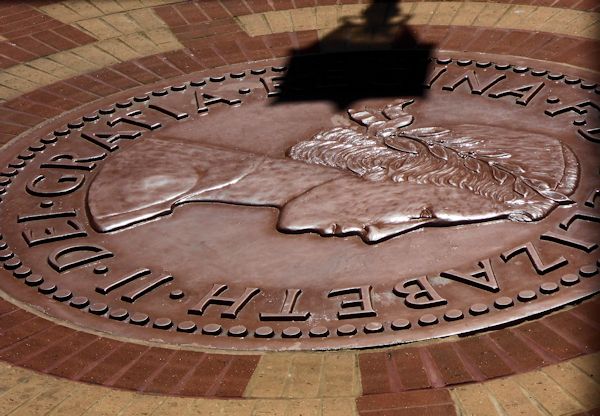 ">
Jubilee Penny in Jubilee Gardens
The cast iron coin which is 2.1 meters in diameter, made from SG iron (Spheriold Graphite) and weighs in excess of 1.75 tons, there is only two of them which exist anywhere in the world, this one and another at Battlesbridge in Essex.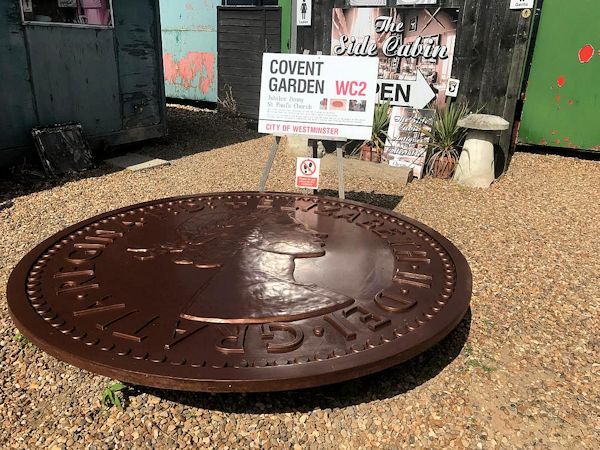 Jubilee Penny Battlesbridge Essex, the only other anywhere in the World
The other penny pictured above is kept at Muggeridge Farm, Maltings Road, Battlesbridge, Essex. SS11 7RF. I met the owner Billy, who told me he was lucky to be at the right place at the right time to obtain this unique London curiosity. I was amazed to be looking at one of a pair which I understand was also meant to grace the Diamond Jubilee Garden alongside its twin, but due to worries about drainage it was never used. I got the impression from Billy, someone looking for a garden feature, making the right offer, could be the proud owner of this one and only Jubilee Penny in the world. If you would like to speak to the present owner about obtaining this once in a life time exclusive opportunity then his details are:
William Birmingham TEL: 07517 982 441 email: thesidecabinantiques@gmail.com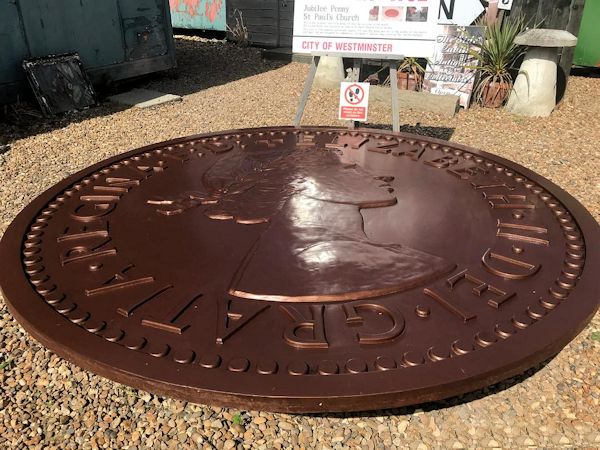 London Time

The contents of this website are the property of knowledgeoflondon.com and therefore must not be reproduced without permission. Every effort is made to ensure the details contained on this website are correct, however, we cannot accept responsibility for errors and omissions.

Contact Us | Advertise