The Disappearing Queen
"Move Queen Anne? Certainly not! Why it might some day be suggested that my statue should be removed, which I should much dislike."
Queen Victoria 1897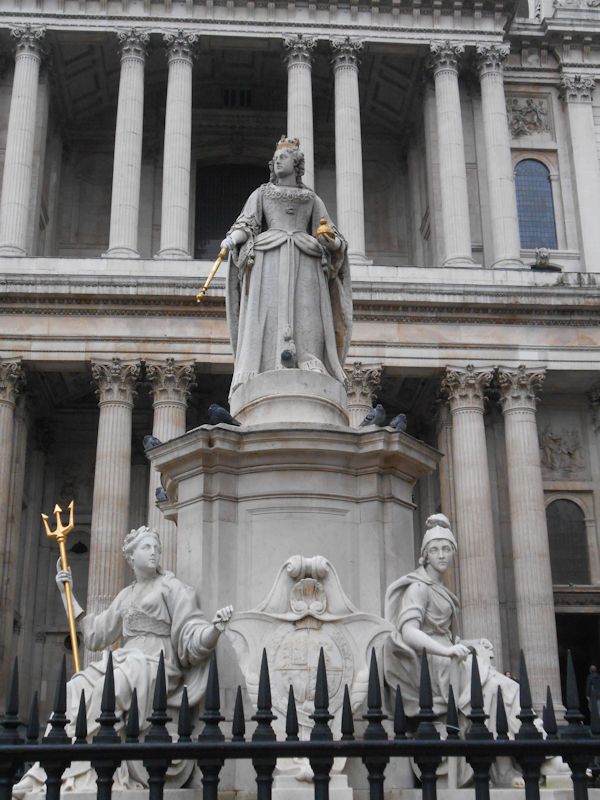 The statue of Queen Anne dating from 1866 which stands at the front of Saint Paul's Cathedral on Ludgate Hill is a replica of a much older one. The original was sculptured by Francis Bird and unveiled in 1713, eleven years after Queen Anne's coronation and a year before her untimely death aged forty-nine. Over the next century and a half the weather beaten Carrara marble statue of Queen Anne started showing signs of decay, with fingers and other fragments falling off. Sculptor Richard C Belt was commissioned to make a copy of the statue, which he had to finish it whilst in prison after being found guilty of fraud. The original statue of Anne disappeared over night, leaving no trace of its whereabouts behind. For the next two years writer Augustus Hare searched for the missing statue, a friend told him to look at a mason's yard in Vauxhall Bridge Road. It was indeed there waiting to be broken up and sold as scrap. Hare discovered that the statue had never belonged to the city council; instead it was the property of three persons, the Archbishop of London, the Archbishop of Canterbury and the Lord Mayor of London. The three of them all agreed to Hare buying the statue and moving it to his home at Holmhurst, Near Hastings in East Sussex. When the statue arrived at Hare's home it was made perfect again with all the missing parts replaced, but over the year's winters' storms have worn away all the reproductions and only the original marble now remains. Hare's home at Holmhurst, on the downs above Hastings was eventually turned into a convent and is where Joanna Lumley OBE (honorable guest of the London Taxi Benevolent Funds trip to Worthing in 2009) went to school. She mentions the Queen Anne statue 'crumbling away' in her autobiography.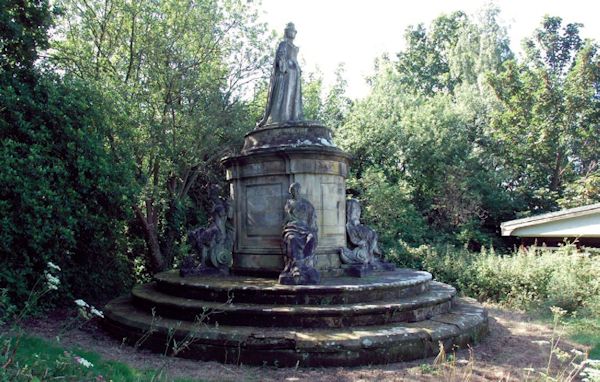 Sadly the convent school is no more, with the old house incorporated in a new housing estate. The land where the statue still stands is no longer part of Holmhurst. Plans are being made to allow public access to view it.
London Time

The contents of this website are the property of knowledgeoflondon.com and therefore must not be reproduced without permission. Every effort is made to ensure the details contained on this website are correct, however, we cannot accept responsibility for errors and omissions.

Contact Us | Advertise