London Oddities # 17:
The Horse Hospital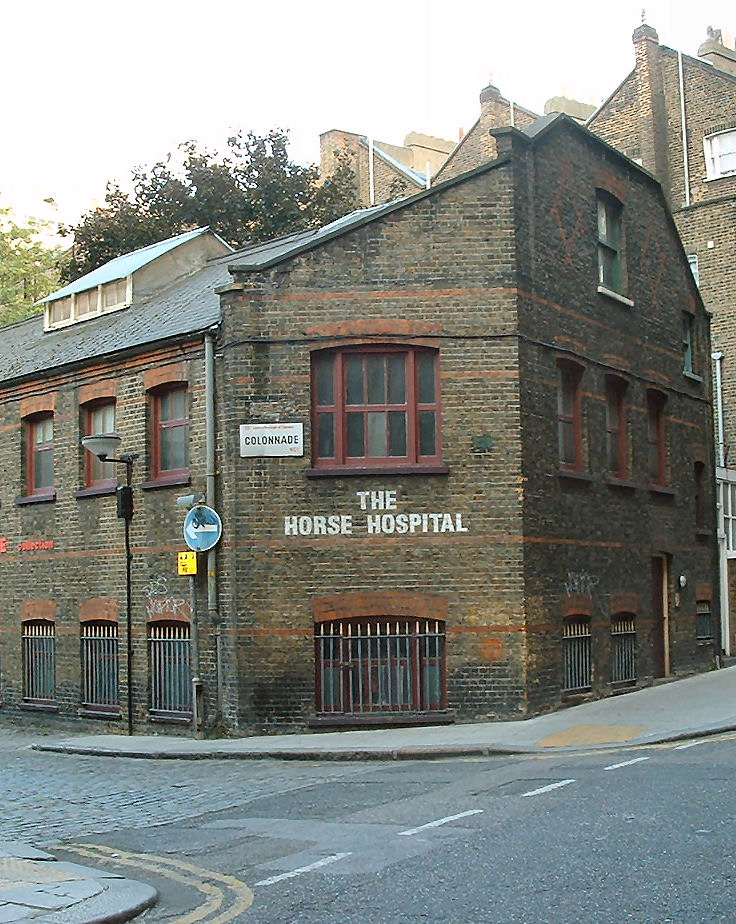 London's taxi-drivers today are spoiled for choice when it comes to finding a garage for cab repairs. Just imagine the turmoil in the horse-drawn age when the powerhouse which pulled the carriage became sick! There were very few conveniently placed veterinary surgeons large enough to cater for the dozens of cabbies' horses needing attention at any one time. James Burton (1761-1837) was a builder and developer who was responsible for building large parts of Bloomsbury and later founded the new town of St Leonards-on-Sea, near Hastings. In 1797 Burton built the Horse Hospital as stabling for cabbies' sick horses, on the corner of Herbrand Street and Colonnade - a mews immediately behind the Hotel Russell. The two-story purpose-built building constructed with red bricks, with access to both floors by concrete moulded ramps, the upper floor ramp still retains hardwood slats preventing the horses from slipping. Each floor has five cast iron pillars and several original iron teething rings. During the same year Burton built the Horse Hospital (1797) he also built the more famous Veterinary College in Royal College Street, St Pancras. The Horse Hospital is a Grade II listed building and now provides space for underground and Avant-Garde media. It also houses the 'Contemporary Wardrobe Collection' specialising in post-war street fashion, sub-cultures and British design.
More Curiosities
1 | 2 | 3 | 4 | 5 | 6 | 7 | 8




London Time




The contents of this website are the property of knowledgeoflondon.com and therefore must not be reproduced without permission. Every effort is made to ensure the details contained on this website are correct, however, we cannot accept responsibility for errors and omissions.

Contact Us | Advertise