Deptford Wanderings
On a hot afternoon during August 2014, with a couple of hours to spare at Deptford, I decided to stretch my legs with a stroll along the Thames. It had been a very long time indeed since I had last wandered this far along the riverside, although when I was a young Bermondsey schoolboy it was my regular patch. In those days of the early 1960s, my friends and I would cycle all the way along from Bermondsey Wall, visiting Cherry Garden Pier, where one of my friends' Grandad lived in a prefab. We would pass by what was then Surrey Docks, where large ocean liners could be seen having a lick of paint and face-lift in the dry docks. We thought this was worth a look before finishing our day at Greenwich.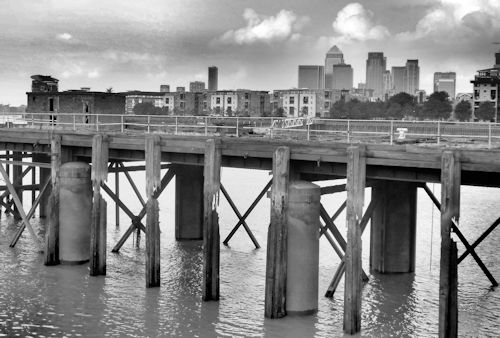 My Deptford wanderings on this latest occasion began after a short walk zigzagging my way across a few side streets towards the river. It soon became clear to me that the south side of the river had kept up its shabby and derelict appearance. What is now called the Thames Path was completely deserted, unlike the crowds, you would expect to find further down at Shad Thames. Looking across the river-front from a rotting wooden pier to the glitzy skyscrapers that make up Canary Wharf, you are left wondering how on earth these two riverside places could have developed so differently. One of them with multi-billions spent on it, the other with council estates, or so-called affordable housing, in a place which time has forgotten, being left to its own devices. I was happy to see that Deptford has kept much of its original charm, which hadn't been lost or changed by developers - yet! I made up my mind that any pictures I would take should have to be in black and white, so as to do justice to this place and to keep its full character intact.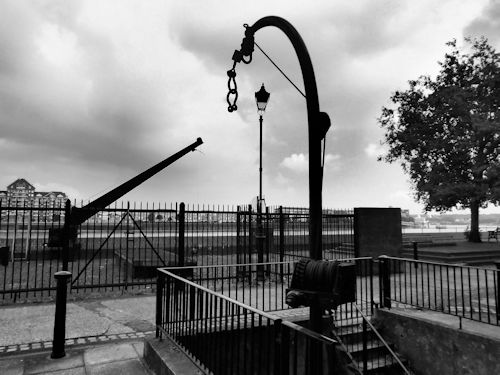 One of the first things that caught my eye, which I thought would make for a good picture, was a decorative metal lamppost. I could line it up nicely behind two iron lifting devices or cranes, which appeared to have been overlooked and left behind by the previous occupiers of what now appeared to be revamped warehouse buildings, where the cranes would have previously been used to carry things up and down to the basement.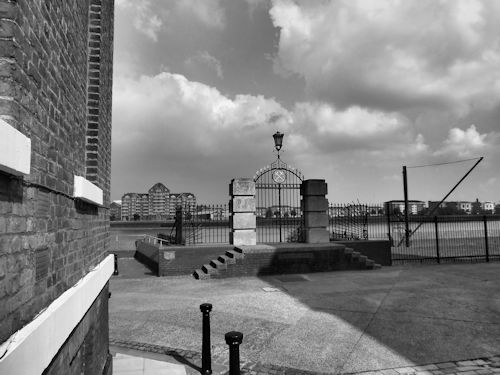 Francis Drake
was knighted by
Queen Elizabeth I
on 4 April 1581. Reading the wall plaque of this historic event at such a desolate place, it is hard to imagine the scene full of Elizabethan people pushing and shoving each other to glimpse this special occasion. Another place in Deptford's history is Sayes Court, which was once a manor house belonging to
John Evelyn
, the famous diarist and gardener (remembered by nearby Evelyn Street). It is said that he had some of the most exotic plants growing in his celebrated garden, which is rather fitting as part of Sayes Court is now a public gardens and wildlife area called Sayes Court Park.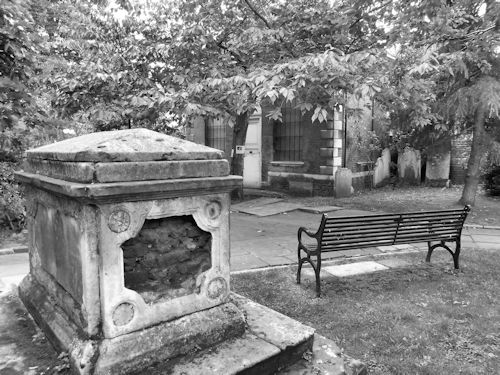 The ancient church of St Nicholas, standing close to the river, is worth a few minutes of anyone's time, with its Kentish Ragstone tower, moss-covered tombstones and the old watch house guarding the graveyard against unwanted body snatchers. My Deptford wanderings had come to an end once I realised the time. I would certainly recommend spending an hour or two in Deptford, where time has been kind to the wanderer.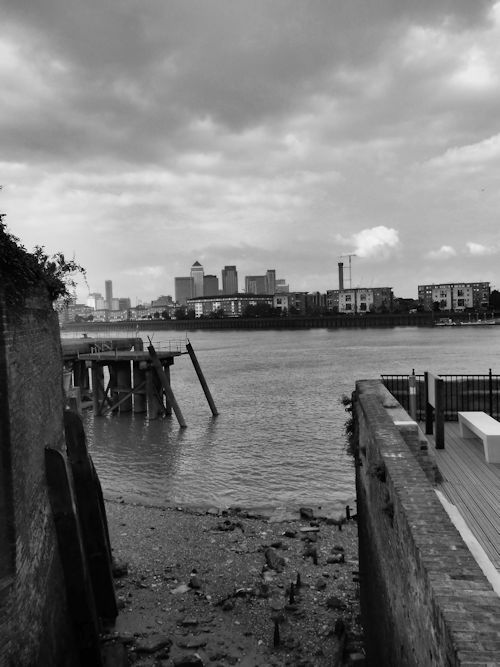 If you want to see this area before the developers move in and it's lost forever then I would suggest making a visit very soon. A new riverside project called Sayes Court Gardens is about to happen!
London Time

The contents of this website are the property of knowledgeoflondon.com and therefore must not be reproduced without permission. Every effort is made to ensure the details contained on this website are correct, however, we cannot accept responsibility for errors and omissions.

Contact Us | Advertise