Banqueting Hall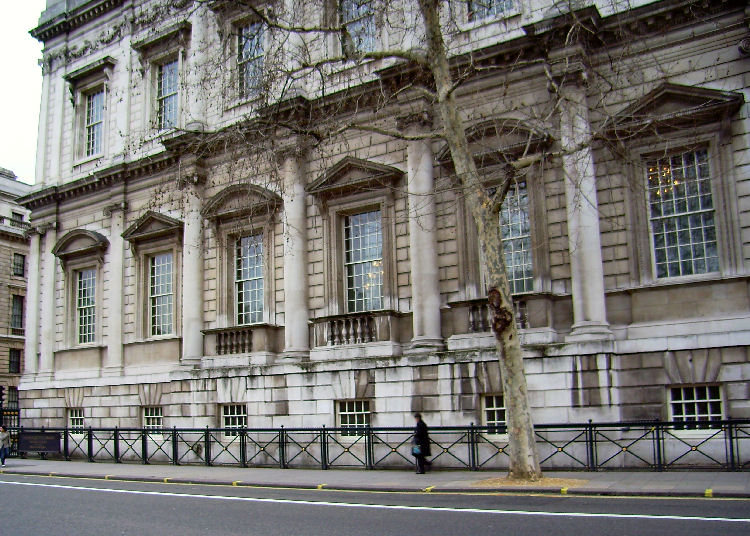 The Banqueting House is all that remains of the ancient Palace of Whitehall. This great hall was built by James I to celebrate happy occasions, little did he know that his son, Charles, would step out from the centre window to be publicly executed. Following his death, the first and last President Oliver Cromwell (Lord Protector of Britain) took this hall as his official residence. Inside the Banqueting Hall is a magnificent ceiling painting by
Rubens
commissioned by King James I, and the only work of Rubens to remain in its original location. The execution of King Charles I.
The scaffold for the beheading was erected in 1649 outside the central window on lower floor. Charles was taken under sentence of death to St James's Palace on January 28th 1649, with his execution taking place two days later. It was a cold morning that day, with blue skies, and a threat of snow. The King was calm and resigned on that fateful day. His wife, Henrietta Maria, was away in France and would not hear about his death until a month later. The children saw their father for the last time at St James's, his hair almost grey, his beard untrimmed and his cloths neglected. Upon his arrival at Whitehall he was escorted to his usual bedchamber unaware that his death warrant had still to be signed. Colonel Huncks who was ask to sign refused. A substitute was eventually found, and with the ink still wet Charles was led to the gallows through a window of the building. Charles stepped out onto the scaffold , which was draped all in black. Before him stood a horrified crowd that packed the roadway to Charring Cross. Believing the King might refuse to place his head upon the block, the executioners had fixed two iron rings to the foot of the scaffold, whereby a cord would be placed round the Kings neck to hold his head in place by force, although this was unnecessary. The executioners were dressed in tight fitting black wool with face masks. The King ask if his hair was in the way, and therefore a white cap was placed on his head, with his hair brush back. The King said "I shall say a short prayer, and then thrust open my hands when ready" he ask if the block was steady. His Majesty then knelt down, placed his head upon the block, at this point the executioner touched the Kings head, not being prepared the King ordered him to wait for the signal. The king again lowered his head to the block, before he had the chance to signal his head was instantly severed. Lifting the head to the crowd the executioner shouted, "behold the head of a traitor."
London Time

The contents of this website are the property of knowledgeoflondon.com and therefore must not be reproduced without permission. Every effort is made to ensure the details contained on this website are correct, however, we cannot accept responsibility for errors and omissions.

Contact Us | Advertise