A Stroll Through Soho
When I have some time on my hands in between the busy shopping area around Oxford Street, I like nothing better than a stroll through the Soho district of London. In Elizabethan times this area was covered in fields, there was even laws forbidding the building of homes within three miles of the city, due to the dangers of spreading plague. Nevertheless, by the seventeenth century a number of houses were constructed illegally, and in 1633 the name So-Hoe, first appeared in the parish rate books. The development lease to convert the immediate surrounding fields, for ​53 1⁄4 years, was granted in 1677 to Richard Frith, citizen (elector of the Corporation of London) and bricklayer.
The Statue of King Charles II Soho Square
Soho Square
, was originally named King Square, after Gregory King, a herald engraver and political writer, whose principle speculation was King Square (Soho Square), during the reign of Charles II. Soho Square was in its early years one of the most fashionable places to live in London. Rate books (of the vestry) continued to call the square King Square until the first decade of the 19th century, however John Rocque's Map of London, 1746 and Richard Horwood's in 1792–9 mark it as Soho Square. The statue of Charles II was erected here in 1681 (one year after the restoration of the monarchy). The statue was carved by Danish sculptor Caius Gabriel Cibber and made the centrepiece of the Square; although it now stands at the northern end. The Square was later bestowed to Charles's bastard son, James Scott, Duke of Monmouth, who built a mansion, Monmouth House. By the early 19th century, the statue, fountain and attendant figures were described as 'in a most wretched mutilated state; and the inscriptions on the base of the pedestal quite illegible'. In 1875, it was removed during alterations in the square by Thomas Blackwell, of Crosse & Blackwell, the condiment firm (who had premises at 20-21 Soho Square from the late 1830s until the early 1920s). It was given for safekeeping to his friend, artist Frederick Goodall, with the intention that it might be restored. Goodall placed the statue on an island in his lake at Grim's Dyke, where it remained when dramatist W. S. Gilbert purchased the property in 1890, and there it stayed after Gilbert's death in 1911. In her will, Lady Gilbert directed that the statue be returned, and it was restored to Soho Square in 1938. Today, Soho Square, with its plane trees and garden, has become a popular place for office workers to relax during lunch times.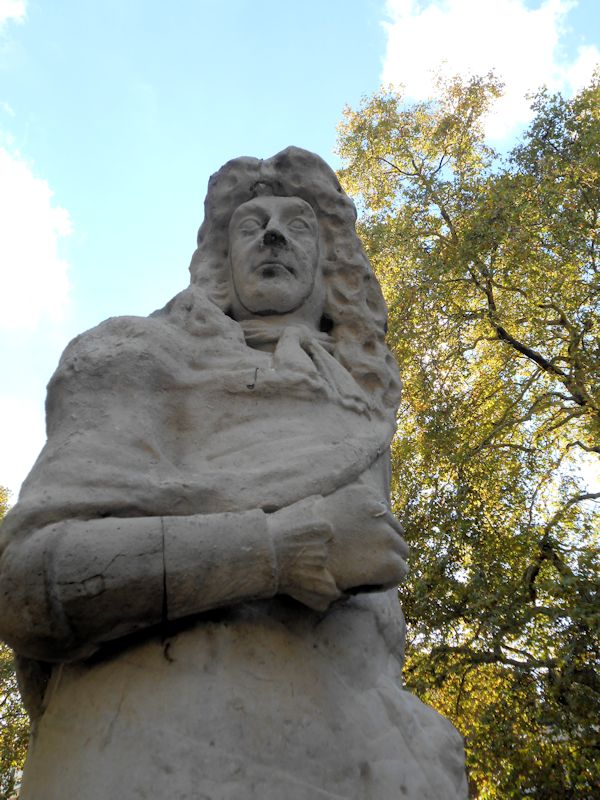 Charles II statue carved by Danish sculptor Caius Gabriel Cibber in 1681, today looking well-weathered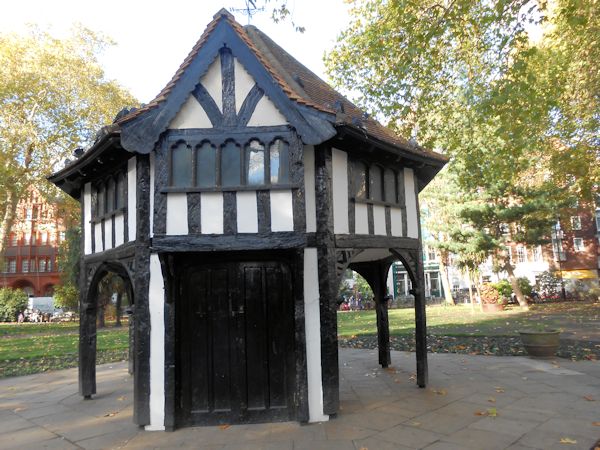 Near the statue is a listed mock Tudor building completed in 1926 to hide the above-ground features of a contemporary electricity substation; small, octagonal, with Tudor timber framing. The Soho area can boast many famous people throughout history, including a foreign king, the first Marxist leader (Karl Marx), the inventor of television and a few artists and poets. With so much to see and do, I will need to decide what street to choose to exit the square. I have a choice of three all leading in the same direction and running parallel.I could take Greek, Dean or Frith Street to head off south? Frith Street was laid out in the late 1670s and early 1680s and named after a wealthy builder Richard Frith. I will take Frith Street this time and enjoy the many famous artists, poets and inventors who have lived in this street. The painter John Alexander Gresse was here in 1784, the year of his death. John Horne Tooke, philologist and politician, lived here in about 1804; John Constable lived here in 1810–11; John Bell, the sculptor, in 1832–33; and William Hazlitt wrote his last essays prior to his death there in 1830, while he was lodging at a town house, which is now Hazlitt's Hotel located at 6 Frith Street, I will later visit his tomb. The lithographic artist Alfred Concanen had a studio at number 12 for many years. Samuel Romilly, (Romilly Street) the legal reformer, was born at number 18 in 1757, and the young Wolfgang Amadeus Mozart lodged at number 20 with his father and sister in 1764–65. In 1816 the actor William Charles Macready was living at number 64, and over a hundred years later, from 1924 to 1926 John Logie Baird lived at number 22 where on 26 January 1926 he demonstrated television to members of the Royal Institution. Just one street with so many famous names.

I feel cheated if I don't cut through at Bateman Street for a quick pint at The French House pub in Dean Street, which was opened by a German national named Christian Schmitt in 1891 and traded as "York Minster". Schmitt died in 1911. His wife, Bertha Margaretha Schmitt, continued to run the pub until 1914. With the outbreak of World War I, Mrs. B. M. Schmitt sold the pub to Belgian Victor Berlemont, who had moved to London in 1900. The bill of sale is posted on a wall at The French still today. He was succeeded by his son Gaston Berlemont, who was born in the pub in 1914, and worked there until his retirement in 1989. After the fall of France in World War II, General Charles de Gaulle escaped to London where he formed the Free French Forces. His speech rallying the French people, "À tous les Français", is said to have been written in the pub, which became known as the French House ever since.
Soho owes a good deal of its foreign appearance to the influx of French refugees after the Revocation of the Edict of Nantes in 1685, when many Huguenots settled here. The Crown and Two Chairmen at 32 Dean Street is worth a mention. It takes its name from two sedan chair-bearers who dropped by when taking Queen Anne opposite to have her portrait painted.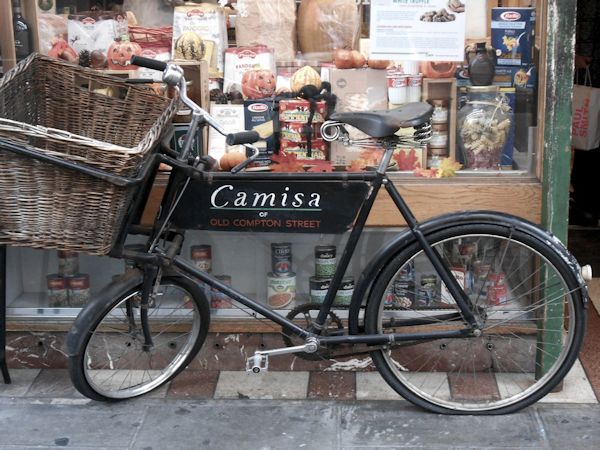 This long-established rustic original Italian deli at 61 Old Compton Street has been here since 1961, founded by the Camisa brothers. Today you can still find authentic Italian ingredients, served to you by real Italians in a typical Italian setting in the heart of Soho, London.
Soho has always been very cosmopolitan with Greeks (Greek Street), French and Italians dating back to the seventeenth century. I can never walk along Old Compton Street without thinking of the famous 2I's coffee bar, where Tommy Steele, Cliff Richards and the Shadows and Adam Faith all started their journey into pop music history.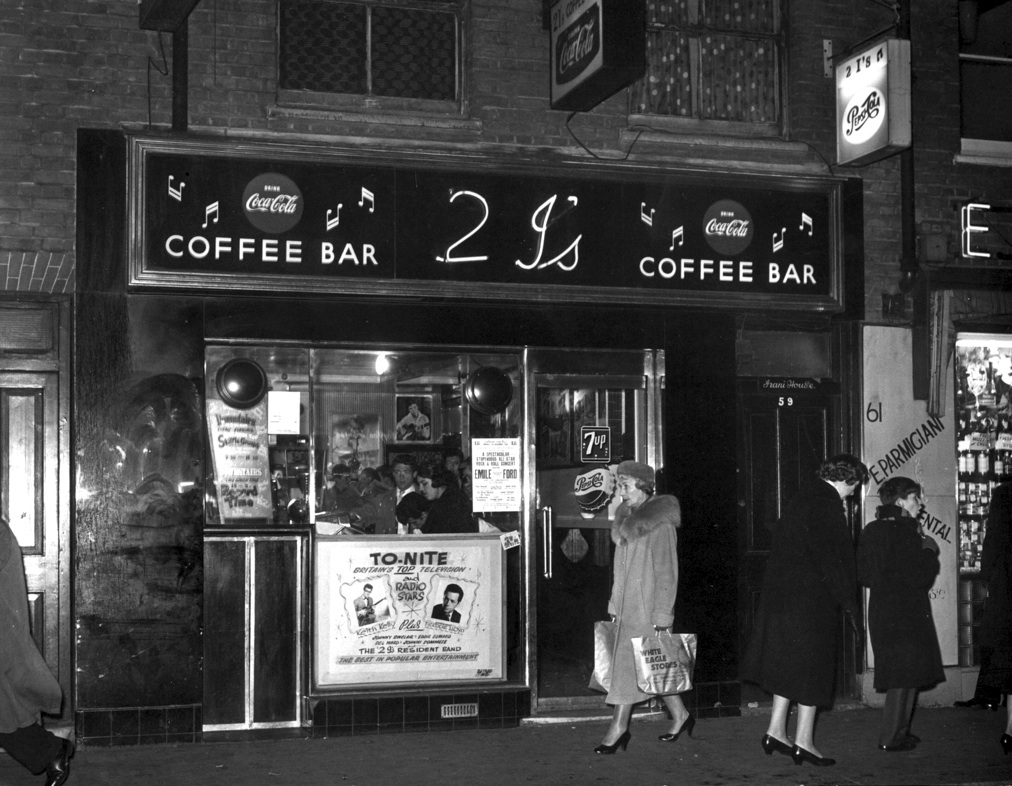 The 2I's Coffee Bar, now a blue plaque is the only reminder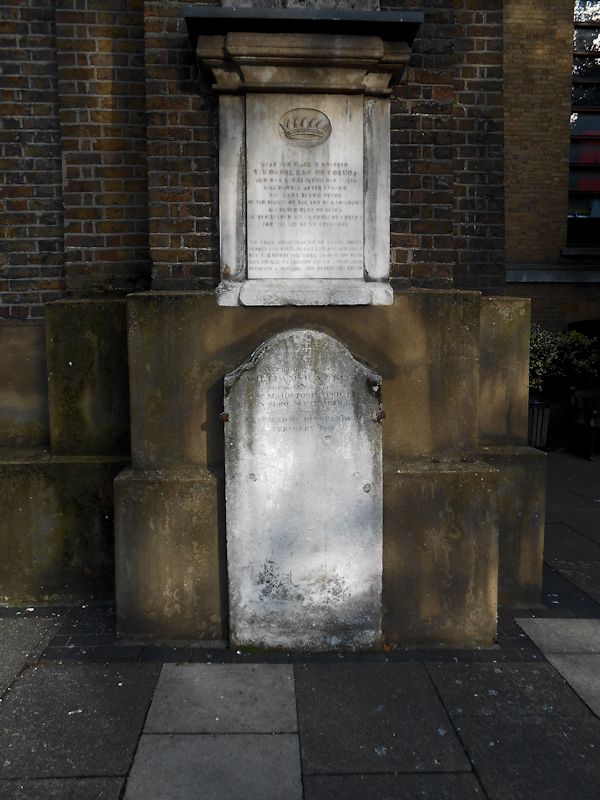 Top Monument to the King of Corsica: Below the monument to Hazlett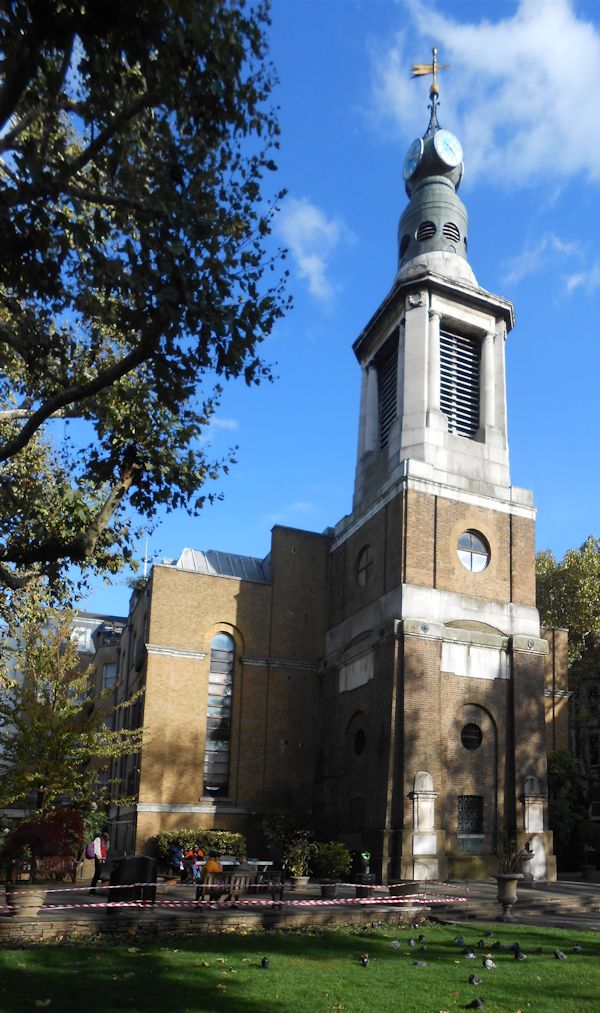 St Anne's Soho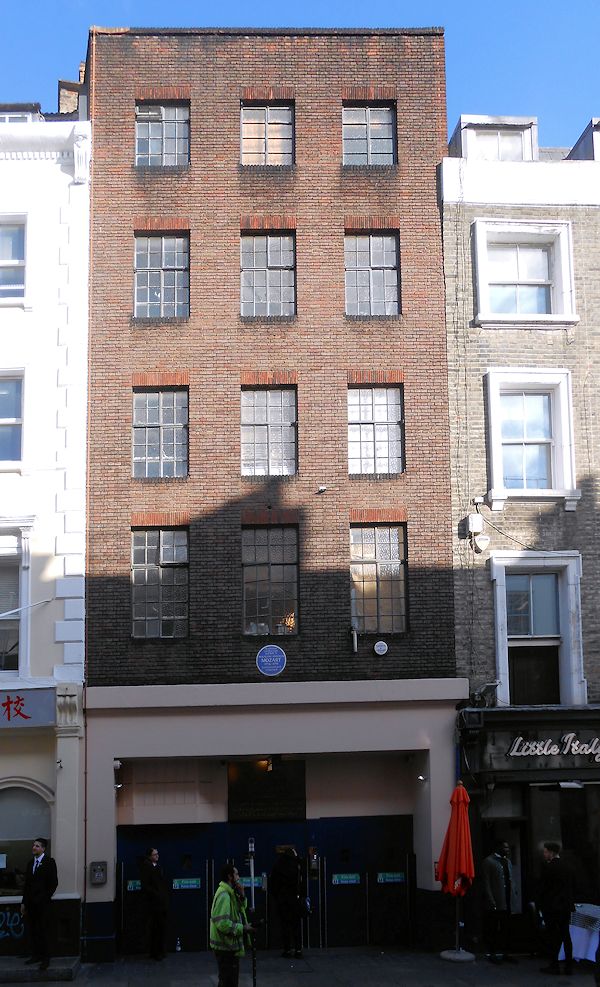 Wolfgang Amadeus Mozart lodged at number 20 with his father and sister in 1764–65
I started my walk with a king, well, I'm finishing my walk visiting the final resting place of the King of Corsica.
Near this place is interred Theodore King of Corsica who died in this parish Dec 11 1756, immediately after leaving the Kings Bench Prison by the benefit of the Act of Insolvency, in consequence of which he registered his Kingdom of Corsica for the use of his creditors.
The grave, great teacher, to a level brings Heroes and beggars, galley-slaves and kings, But Theodore this moral learn'd ere dead: Fate poured its lessons on his living head, Bestow'd a kingdom, and denied him bread.
The epitaph was written by Walpole, who raised a subscription to free him from prison. On his release the King went to live with a tailor on Little Chapel Street where he died.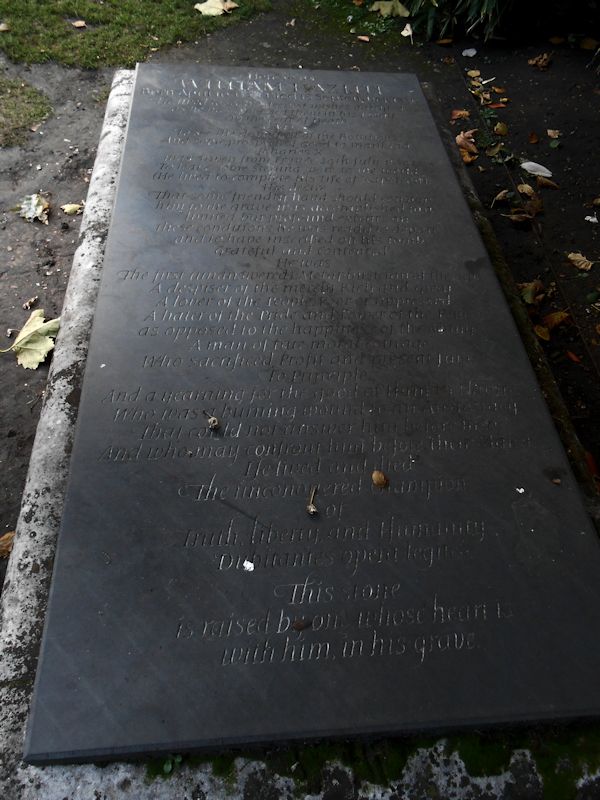 William Hazlitt's grave
London Time

The contents of this website are the property of knowledgeoflondon.com and therefore must not be reproduced without permission. Every effort is made to ensure the details contained on this website are correct, however, we cannot accept responsibility for errors and omissions.

Contact Us | Advertise