London Famous # 21: Rudyard Kipling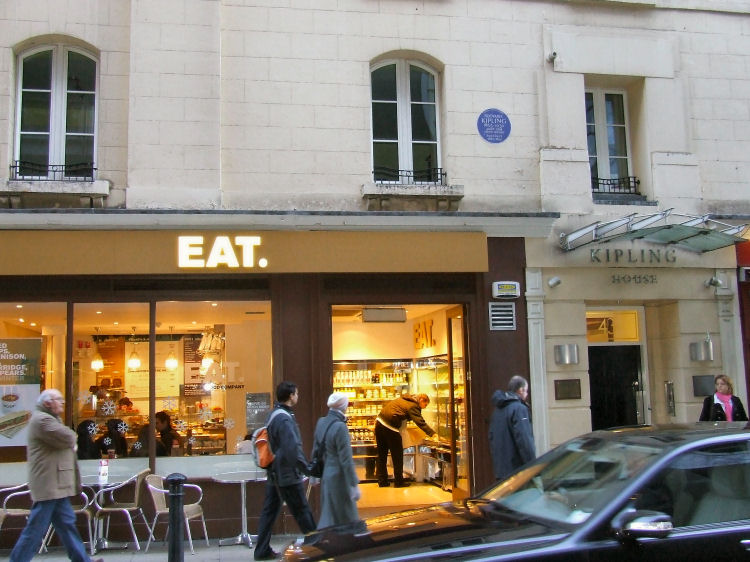 Kipling's London Home, Villiers Street, WC2
Rudyard Kipling was born in Bombay, India, on December 30, 1865, the son of Lockwood Kipling, a sculptor and pottery designer, who was the Principal and Professor of Architectural Sculpture at the newly founded Sir Jamsetjee Jeejeebhoy School of Art and Industry in Bombay. At the age of six, he was left in a foster home in England. He was extremely unhappy at his foster home but stayed there until 1878, when he entered a boarding school in England. He returned to India in 1882 and joined his parents in Lahore, where he worked as a journalist with the Civil and Military Gazette. By the last decade of the nineteenth century Rudyard Kipling had become enormously successful as a poet and writer, seen as a successor to Charles Dickens. It was around this time that he lived in London's Villiers Street for the next two years. "Meantime, I had found me quarters in Villiers Street, Strand, which forty-six years ago was primitive and passionate in its habits and population. My rooms were small, not over-clean or well-kept, but from my desk, I could look out of my window through the fanlight of Gatti's Music Hall entrance, across the street, almost onto its stage. The Charing Cross trains rumbled through my dreams on one side, the boom of the Strand on the other, while, before my windows, Father Thames under the Shot Tower walked up and down with his traffic." Rudyard Kipling died in 1936 at the age of 70 and is buried in Westminster Abbey
London Famous # 22: Charles Lamb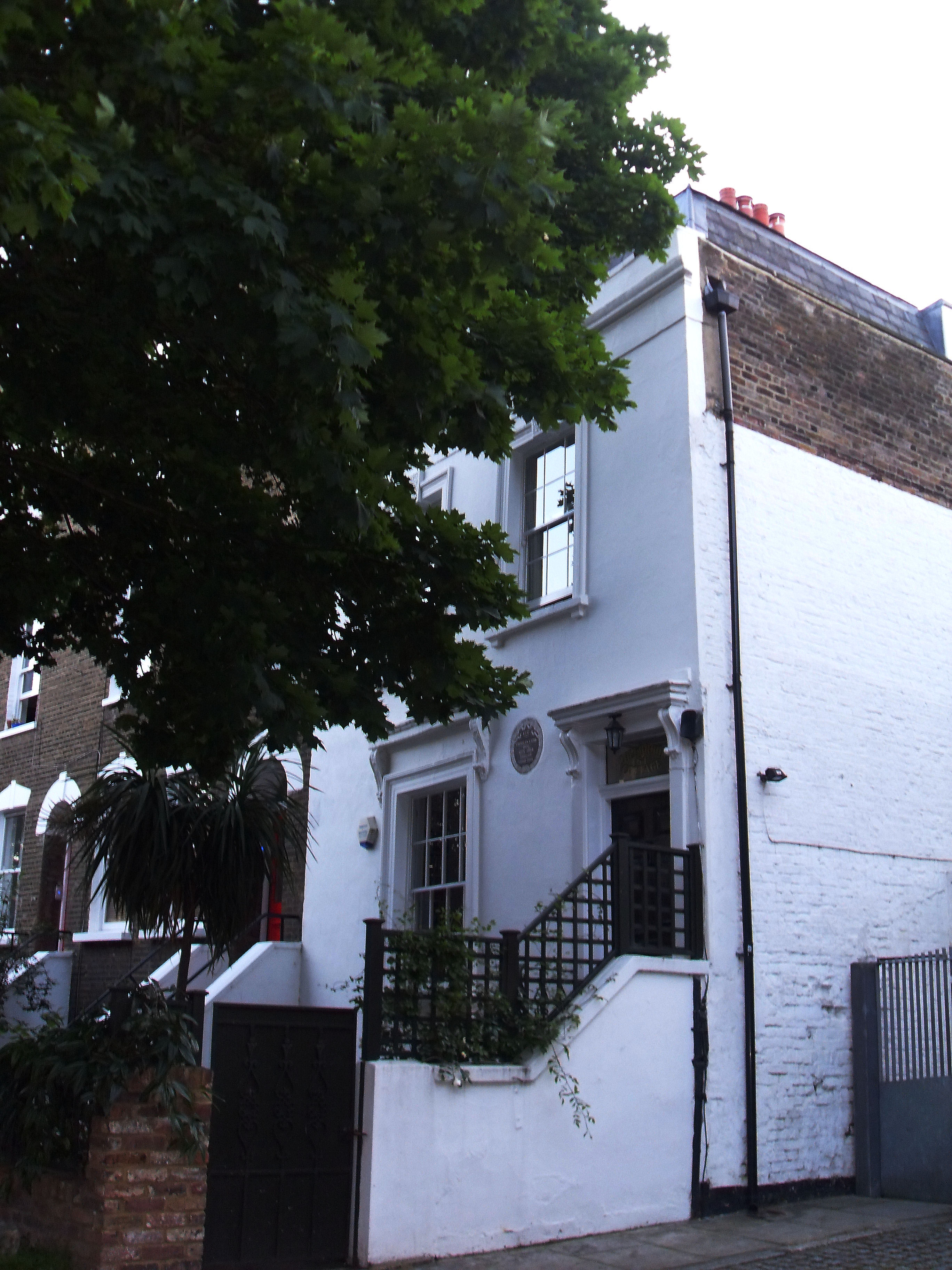 Charles Lamb's House, 64 Duncan Terrace, Islington.
"I have a cottage in … Islington… I feel like a great lord, never having a house before."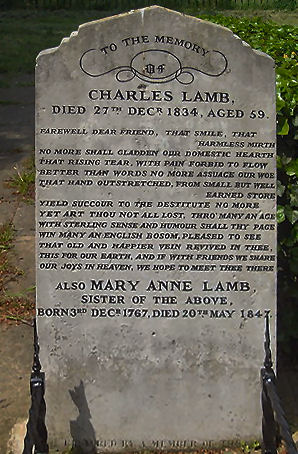 It was in the year of 1823 when Charles Lamb became a resident in this rural cottage in Islington. He enjoyed the quiet countryside here by the banks of the Regent's Canal, where he often enjoyed long walks. He was born in London in 1775 and had studied at Christ's Hospital, where his lifelong friendship with Samuel Taylor Coleridge had begun. At the age of twenty, Charles had suffered a period of insanity. His elder sister Mary Ann also had mental problems; during a fit of madness, she killed her mother with a table-knife in 1796. Avoiding a murder trial due to mental illness she was given over to her brother Charles, to care for and protect her. Just two years after his move to Islington he retired to Enfield, where he remained until his death on December 27, 1834. He died after a fall during a walk where he cut his face. The wound developed into erysipelas, which proved fatal. He was buried at All Saints' Church, Edmonton. His sister Mary Ann survived another thirteen years until her death in 1847. She lies buried in the same grave beside him.
London Famous # 23: Joe Meek (Telstar Man)


The Joe Meek Studio - 304 Holloway Road. Where he lived and died.
This shabby looking shop, 304 Holloway Road, once held the bathroom sounds of the stars. For here in 1960 Joe Meek built his recording studio RGM Sounds (initials for Joe's real name Robert George Meek). He already had his first studio in West London at Notting Hill, where he was served with a notice to quit because of the noise emanating from his flat. Moving down-market to the rather noisy Holloway Road, he had found the ideal place, consisting of three floors above a leather goods shop. On the first floor was his living room with partitioned kitchenette. The other room at the front was used as an office and waiting room. The next floor had the all-important recording studio overlooking the busy Holloway Road, the back room on the same floor was used as his control room, the upper floor had a bedroom and a junk room. How many young would-be pop artists travelled through this door and up the small staircase is unknown, but the number of famous stars with hits that came out of these rooms is immense. Early names include John Leyton, Mike Berry and the Outlaws, Screaming Lord Sutch, the Tornados, Heinz, and the Honeycombs, with much more that could be mentioned. Meek's first big hit worldwide with the first British group to top the American top 100 was with the Tornados and Telstar. Joe was a big fan of Buddy Holly, who died on February 3, 1959. On the same date in 1967, the first ever independent record producer is said to have shot his landlady Mrs Shenton in a fit of fury then turned the gun on himself. The legendary Joe Meek (Mr Telstar) had turned the music business upside down with his bathroom sounds at 304 Holloway Road. On the outside wall, a black plaque has been rightfully placed. It is ironic that today satellite dishes hang on the wall outside the very rooms where the launch of the Telstar communication satellite was commemorated in music.
London Famous # 24: George Dance the younger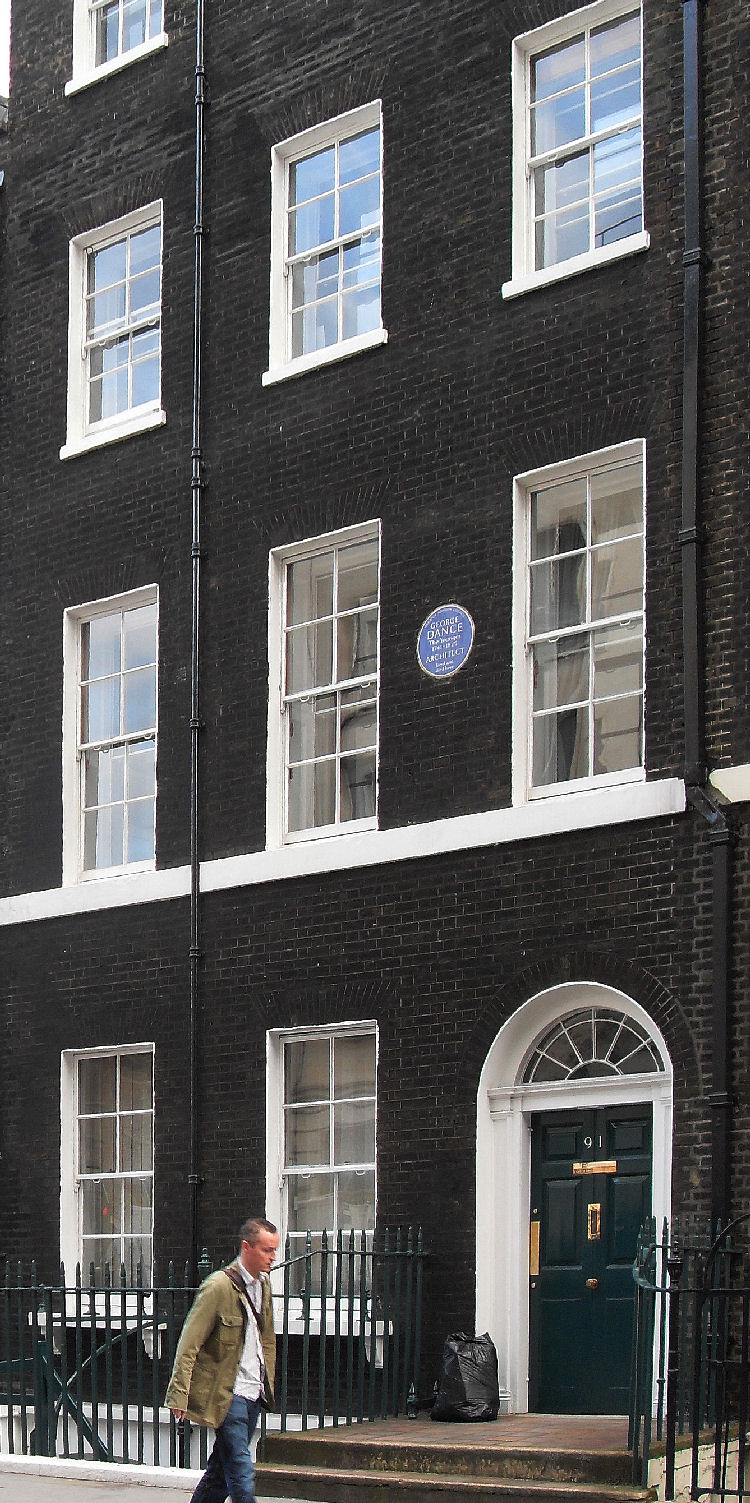 Gower Street home of George Dance the younger
This is the home of George Dance the younger, where he had lived a somewhat reclusive existence with poor health during his final years. His father, George Dance the elder, was the Architect and Surveyor to the Corporation of London, and builder of Mansion House. Dance the younger's earliest London project was the rebuilding of All Hallows-on-the-Wall Church (1765-67). When the elder George died in 1768, his youngest son took his position with the Corporation of London, designing important public buildings such as the now-demolished Newgate Prison (1770), and St. Luke's Hospital (1786) built in Classical style. Much later in his career, he designed the College of Surgeons (1806-13). He also taught the up and coming John Soane a thing or two. Dance was one of the original members of the Royal Academy and contributed architectural designs to the early exhibitions. He remained the City Surveyor until 1895/96. Dance introduced the circus and crescents to London. Georgian London owed a lot to this great builder of those times. After many years of illness, George died on January 14, 1825, and is buried in St Paul's Cathedral.
London Famous # 25: Jerome K Jerome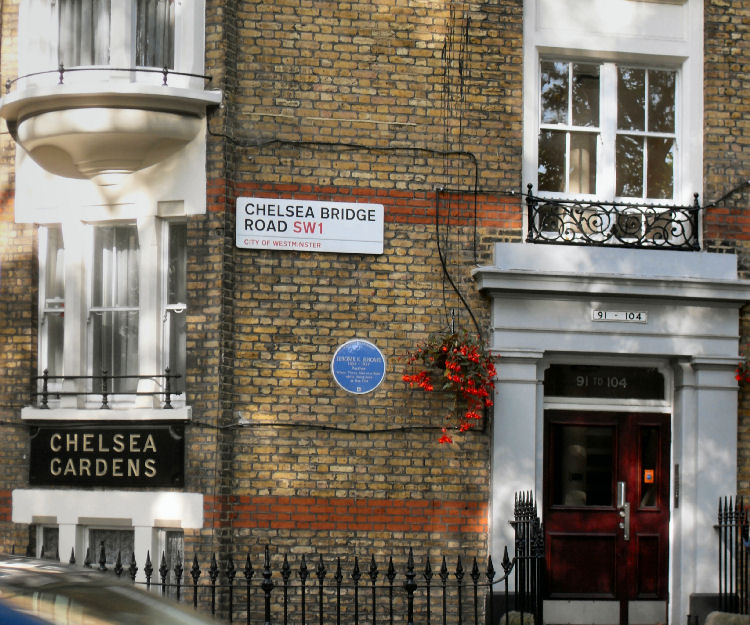 91-104 Chelsea Gardens, Chelsea Bridge Road
Jerome Klapka Jerome, better known as Jerome K Jerome, was born on the 2 May 1859 at Caldmore, Walsall. He spent his early years in Poplar, London's East End. He attended North West London's Philological School, later known as the St Marylebone Grammar School. He started his working life with the London and North Western Railway, with other jobs including journalism and schoolteaching, before his story writing success. His bestsellers include Idle Thoughts of an Idle Fellow (1886) and Three Men in a Boat (1889), which he wrote while living here at Flat 104, Chelsea Gardens, Chelsea Bridge Road. He died 14 June 1927 and was cremated at Golders Green cemetery. His ashes were buried on 17 June at St Mary's Church Ewelme, Oxfordshire. Whilst living here at Flat 104, Chelsea Gardens, Chelsea Bridge Road. He Died 14th June 1927 and was cremated at Golders Green cemetery, with his ashes buried on the 17 June at St Mary's Church Ewelme, Oxfordshire.
London Famous # 26: Beatrix Potter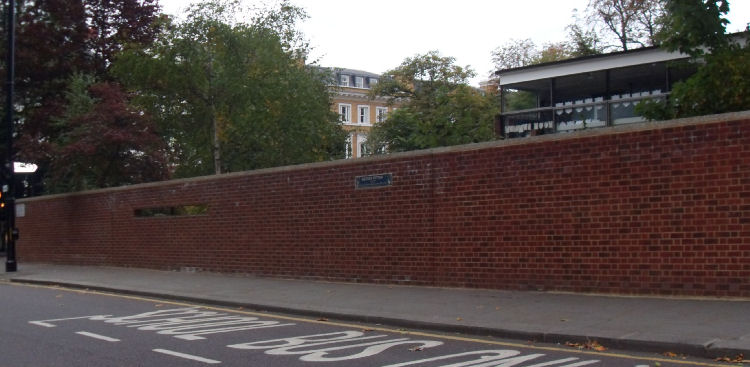 Beatrix Potter's childhood home a casualty of the blitz and now covered by a wall behind the Bousfield Primary School
Beatrix Potter was born in a house on this site on the south side of Old Brompton Road, near the junction with Bolton Garden's, where a blue plaque now marks the spot. She spent most of her childhood looking out of the third-floor window with unobstructed views of the National History Museum. She was educated at home by a succession of governesses. She had only her pet animals for company and spent hours on end sketching them.
London Famous # 27: W. H. Smith
Born in London, son of William Henry Smith senior, young William Henry Smith entered into his father's business of news vendor and bookshops and made the stores a household name by selling books and newspapers at railway stations throughout the United Kingdom.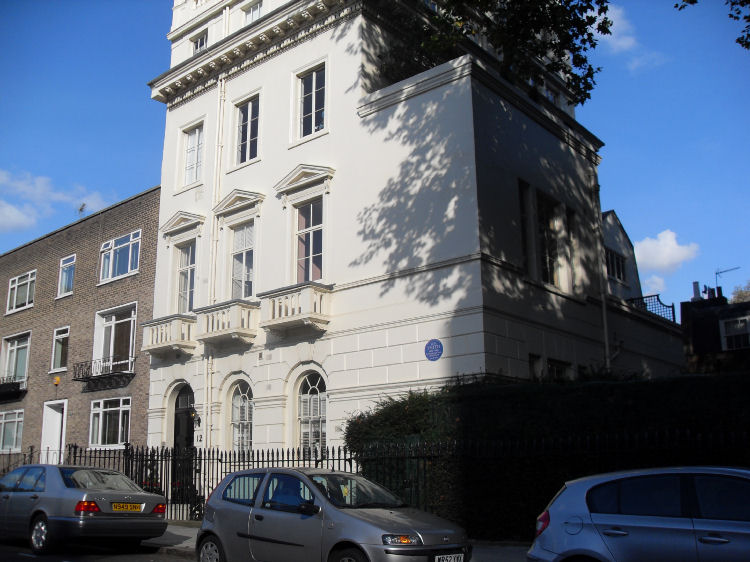 W.H.Smith's home in Hyde Park Street W2
In 1868 he was elected the Conservative Member of Parliament for Westminster, whilst residing at the above address. He was later appointed Secretary of the Treasury. In 1877 he became the First Lord of the Admiralty, and featured in the 1878 Gilbert and Sullivan comic opera as the character of Sir Joseph Porter, with the scathing lyrics;
I grew so rich that I was sent
By a pocket borough into Parliament.
I always voted at my party's call,
And I never thought of thinking for myself at all. I thought so little, they rewarded me
By making me the Ruler of the Queen's Navee!
The derisive nickname "Pinafore Smith" was to haunt him throughout his political career. W. H. Smith's is still one of the today's leading newsagents and bookshops.
London Famous # 28: Robert Falcon Scott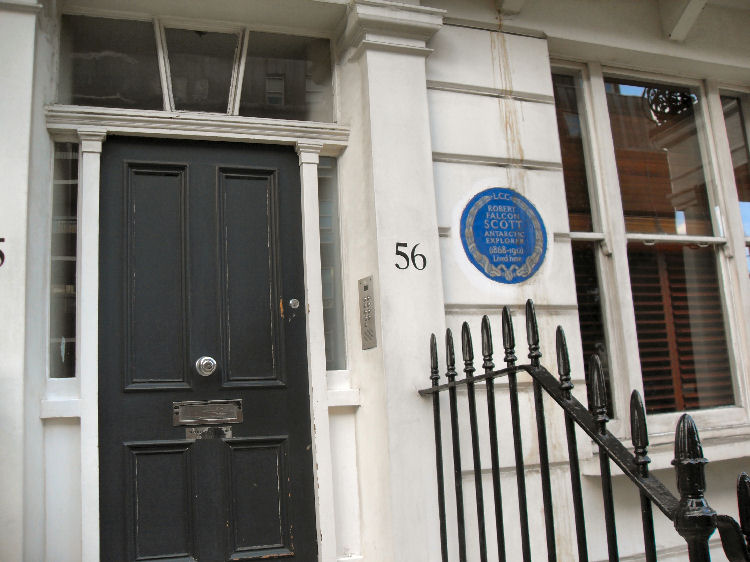 Robert Falcon Scott's house at Oakley Street Chelsea
Robert Falcon Scott, British Royal Naval officer and explorer who led two expeditions to the Antarctic regions: the Discovery Expedition 1901–04, and the ill-fated Terra Nova Expedition 1910–13, lived in this house at Oakley Street, Chelsea. During the second venture, Scott led a party of five which reached the South Pole on 17 January 1912, only to find that they had been beaten by Roald Amundsen's Norwegian party in the race for the Pole. The defeated party began the 800-mile (1,300 km) return journey on 19 January. On their return journey, Scott and his four comrades perished because of a combination of exhaustion, hunger and extreme cold.
London Famous # 29: Sir Arthur Conan Doyle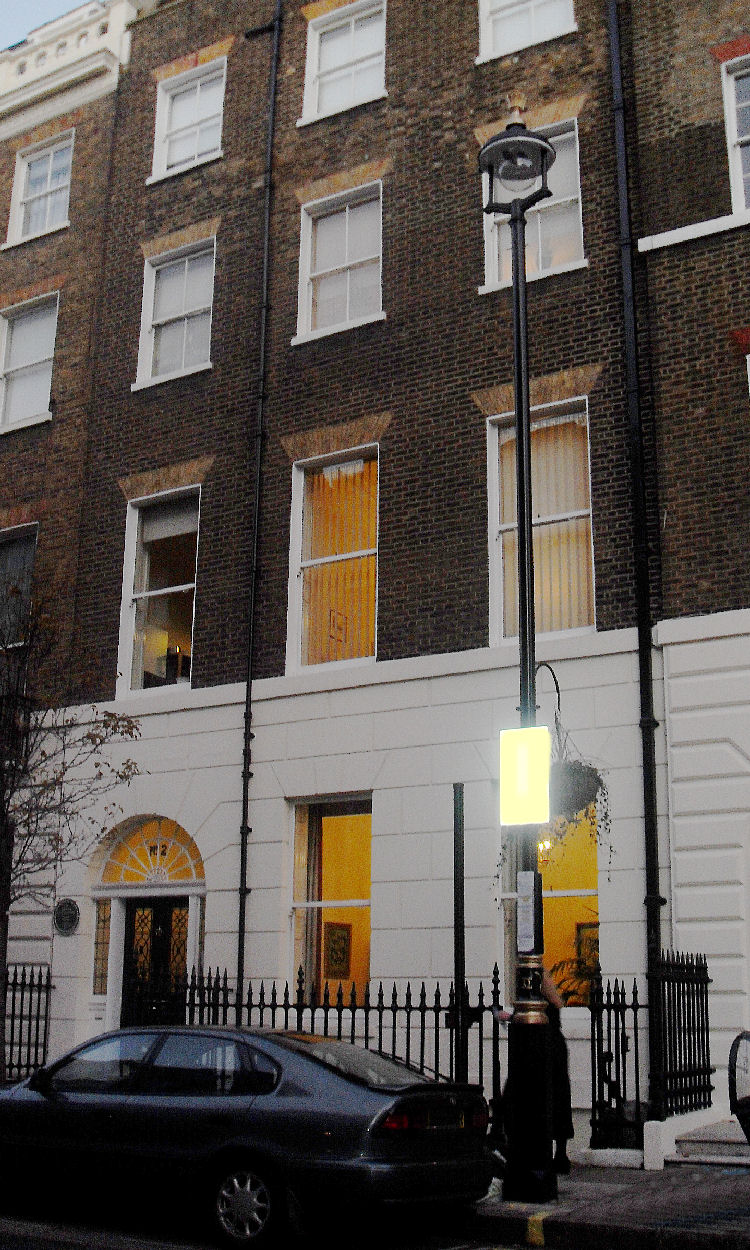 2, Upper Wimpole Street
Sir Arthur Conan Doyle was born in Edinburgh, Scotland on 22 May 1859. His parents were of Irish stock the Foley's and the Doyle's. From 1876 to 1881 he studied medicine at Edinburgh University, it was during this time he started to write short stories. After leaving university he took a job as the doctor on a ship bound for the African West Coast. The first published story of Sherlock Holmes "A Study In Scarlet" appeared in Beeton's Christmas Annual for 1887. He patterned Sherlock on his professor Joseph Bell, who was always deducing things that were elementary. Study In Scarlet was written at Conan Doyle's first consulting room at 2, Upper Wimpole Street, where without a single patient crossing the doorstep he had time on his hands to contrive the sleuth that was to become Sherlock Holmes. Today this distinctive Georgian terraced building is still very much at the centre of London's medical profession, also less than half a mile from 221B Baker Street, where Sherlock Holmes resided.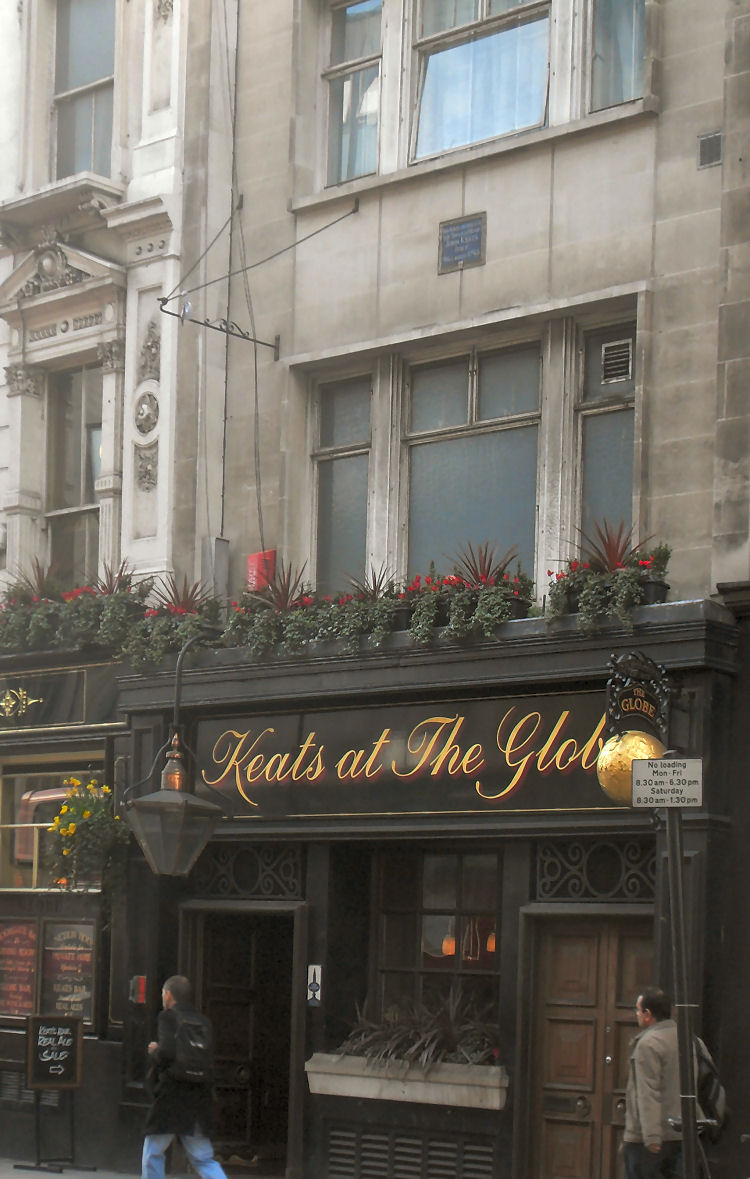 Keats at The Globe, Moorgate
London Famous # 30: John Keats
John Keats was born on 31 October 1795 in the Swan and Hoop Inn at 199 Moorgate. His maternal grandparents, John and Alice Jennings were well-off, and upon his parent's marriage, entrusted the management of their livery business to Keats father Thomas. The pub standing on the site is nowadays called "Keats at The Globe". There are some other blue plaques around London where Keats lived, although this one commemorates his birth place.
Continue to part 4
London Time

The contents of this website are the property of knowledgeoflondon.com and therefore must not be reproduced without permission. Every effort is made to ensure the details contained on this website are correct, however, we cannot accept responsibility for errors and omissions.

Contact Us | Advertise