London Famous # 31: W. B. Yeats & Sylvia Plath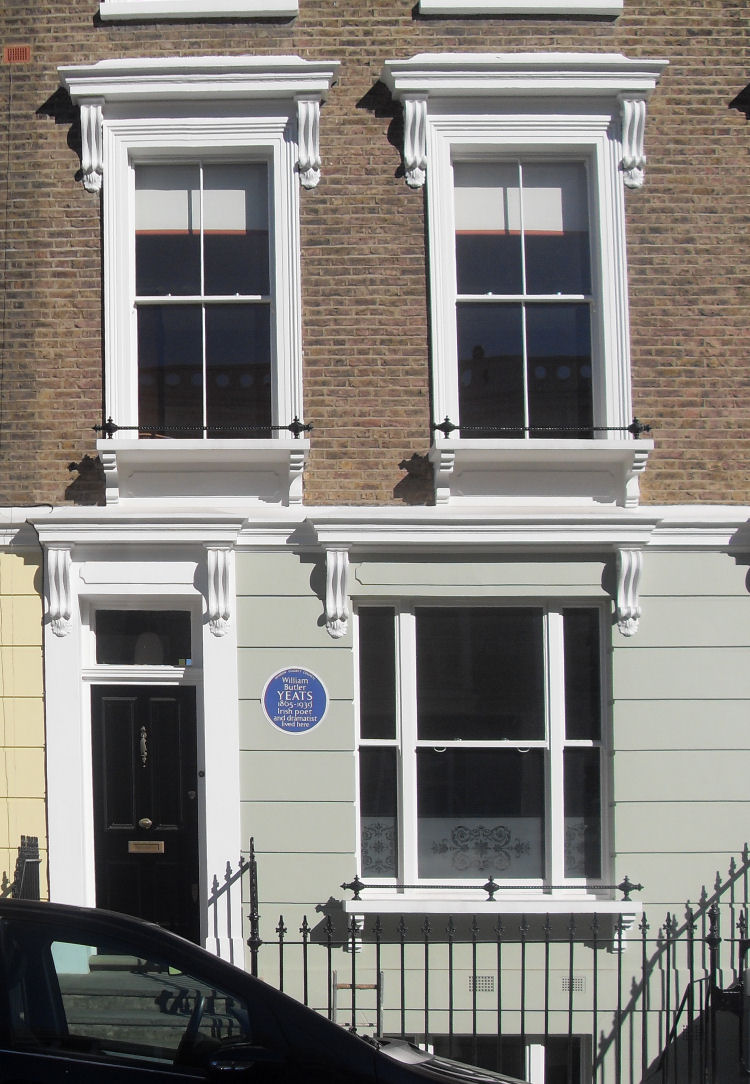 23 Fitzroy Road Primrose Hill was the home of the Irish poet and dramatist W.B. Yeats. It was also to become home to Sylvia Plath with her poet husband Ted Hughes after moving in during the early sixties. Sylvia Plath took her own life in this house on February 11th, 1963 after she completely sealed the rooms between herself and her sleeping children with "wet towels and clothes." Sylvia then placed her head in the oven while the gas was turned on. On Monday, March 16, 2009, her youngest child Nicholas Hughes hanged himself in his home in Alaska at the age of forty-seven.
London Famous # 32: Alliott Verdon-Roe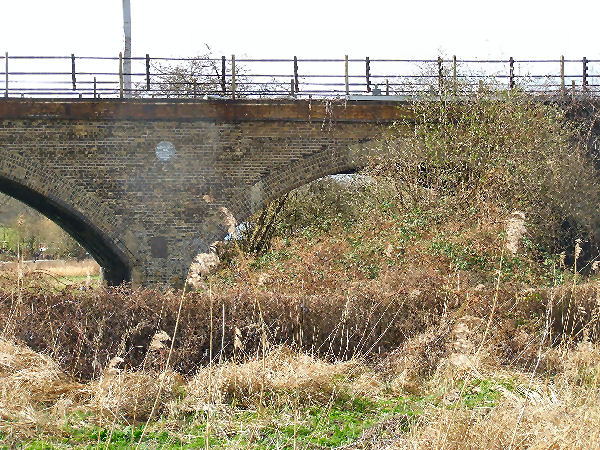 The two railway arches on Walthamstow Marshes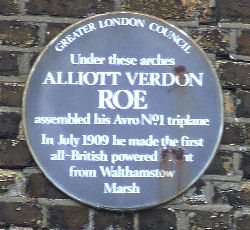 One of the most inaccessible parts of London with a blue plaque has to be this one, acknowledging the World's first aircraft manufacturers, A.V. Roe (Alliott Verdon-Roe). For this arch was Roe's former workshop where he constructed the "Triplane" underneath two railway arches on Walthamstow Marshes. The Triplane, built with a British 9hp JAP engine created history on 13 July 1909, when the short hops, officially became flights, and by 23 July it had flown 900ft and A.V. Roe was recognised by the Aero Club as the first Englishman to design, build and fly an all-British aeroplane.
London Famous # 33: Dame Gracie Fields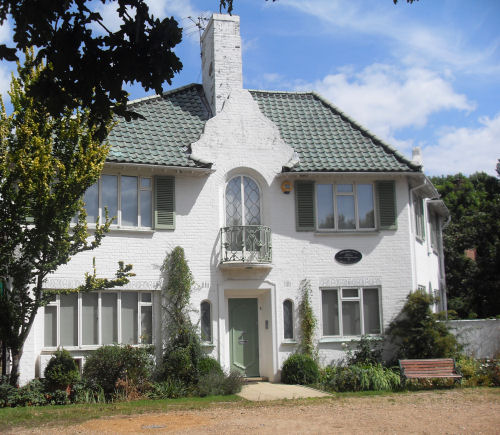 Gracie Fields built this house in Hampstead London, for herself in 1934
Born Grace Stansfield, over a fish and chip shop owned by her grandmother, Sarah Bamford, in Molesworth Street, Rochdale Lancashire, on the 9 January 1898. She made her first stage appearance as a child in 1905. Her professional debut in variety took place at the Rochdale Hippodrome theatre in 1910 and she soon gave up her job in the local cotton mill, where she was a part-timer, spending half a week in the mill and the other half at school. She donated her house, "Tower," 20, Frognal Way, Hampstead, London which she had built for herself and shared with her husband Archie Pitt and his mistress to a maternity hospital after the marriage broke down. In 1939, she became seriously ill with cervical cancer. The public sent over 250,000 goodwill messages and she retired to her villa on Capri. After she recovered, she recorded a very special 78rpm record simply called Gracie's Thanks, in which she thanks the public for the many cards and letters she received while in hospital. During World War II, she paid for all servicemen/women to travel free on public transport within the boundaries of Rochdale. In the late 1930s, she set up The Gracie Fields Children's Home and Orphanage at Peacehaven in Sussex for children of those in the theatre profession who could not look after their children. She kept this until the late 1960s when the home was no longer needed. This was near her home in Peacehaven, and Gracie often visited with the children all calling her 'Aunty Grace.' In March 1940, she married Italian-born film director, Monty Banks, following her divorce from Pitt, and in May they moved to their home in Santa Monica. However, because Banks remained an Italian citizen and would have been interned in the United Kingdom, she was forced to leave Britain for North America during the war, at the instruction of Winston Churchill, who told her to "Make American Dollars, not British Pounds," which she did in aid of the Navy League and the Spitfire Fund. She did occasionally return to England to show she was not indeed a traitor, performing in factories and army camps around the country. After their initial argument, Parliament offered her an official apology. Monty Banks died in 1950 of a heart attack whilst travelling on the Orient Express. Fields married Boris Alperovici, a Romanian radio repairman two years later. She claimed that he was the love of her life and that she couldn't wait to propose to him -proposing on Christmas day in front of friends and family. They married at the Church of St Stefano on Capri in a quiet ceremony before Honeymooning in Rome. Gracie's health declined in July 1979, when she contracted pneumonia after performing an open-air concert on the Royal Yacht which was docked in Capri's Harbour. After a spell in Hospital, Gracie seemed to be recovering but died in September 1979.
London Famous # 34: Shakespeare in London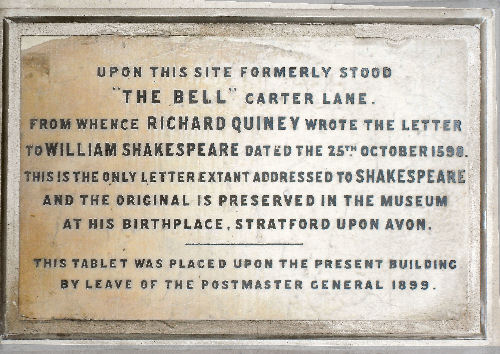 Which part of London do we best associate with William Shakespeare? The answer would have to be Blackfriars, where Shakespeare lived for many years. In Carter Lane just a short distance from Shakespeare's home, once stood his local pub the Bell, where a letter was written dated the 25th October 1598 from Richard Quiney. We are reminded by this tablet inset into the wall, of the only letter addressed to William Shakespeare with the original kept in Shakespeare's museum Stratford upon Avon.
Back to Part 1
London Time

The contents of this website are the property of knowledgeoflondon.com and therefore must not be reproduced without permission. Every effort is made to ensure the details contained on this website are correct, however, we cannot accept responsibility for errors and omissions.

Contact Us | Advertise