Statues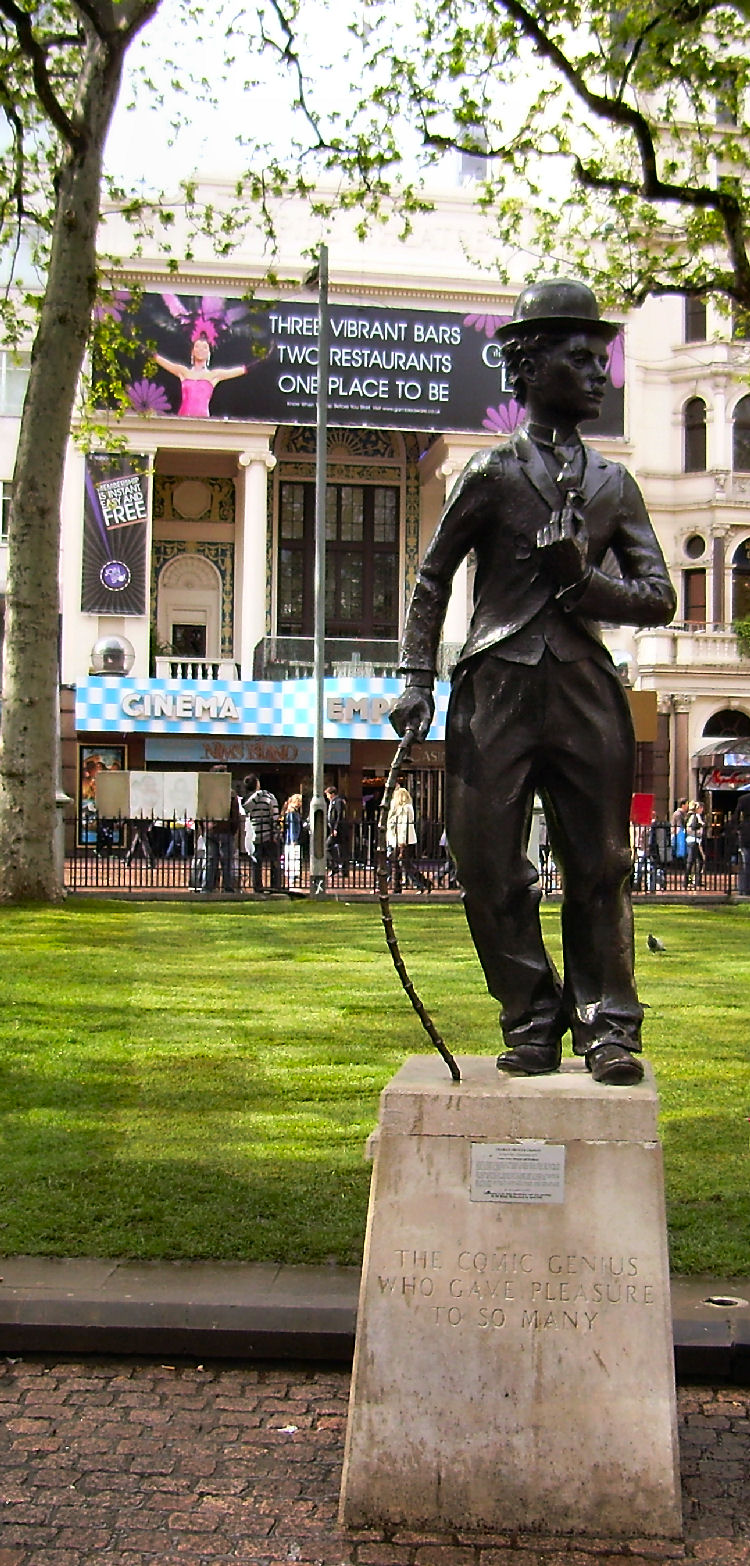 Sir Charles Chaplin comic genius.
Chaplin was born on 16 April 1889, in East Street, Walworth, London. His parents were both entertainers in the Music Hall tradition; they separated before Charlie was three. He learned singing from his parents. The 1891 census shows that his mother, the actress Lily Harvey (Hannah Harriet Hill), lived with Charlie and his older brother Sydney on Barlow Street, Walworth. As a child, Charlie also lived with his mother in various addresses in and around Kennington Road in Lambeth, including 3 Pownall Terrace, Chester Street, and 46 Methley Street. His maternal grandmother was half-Roma, a fact he was very proud of, but also described as "the skeleton in our family cupboard". Chaplin's father was an alcoholic and had little contact with his son, though Chaplin and his brother briefly lived with their father and his mistress, Louise, at 287 Kennington Road (which address is now ornamented with a plaque commemorating Chaplin's residence). The brothers resided there when their mother became mentally ill and was admitted to the Cane Hill Asylum at Coulsdon. His father's mistress sent the young Chaplin to Kennington Road school. Chaplin's father died when Charlie was twelve in 1901. At the time of the 1901 Census, Charles resided at 94 Ferndale Road, Lambeth. Charlie was to become one of the silent screens greatest film stars with his tramp-like character which earned him worldwide acclaim. For no other reason than he was a class Londoner of the twentieth century, we make him our number one statue.
See Charlie Chaplin's Early Life in Lonondon
Before we leave the confounds of the square, a glance around reveals the Elizabethan bard William Shakespeare, who though born in Stratford-on-Avon, spent most of his life in the London theatre.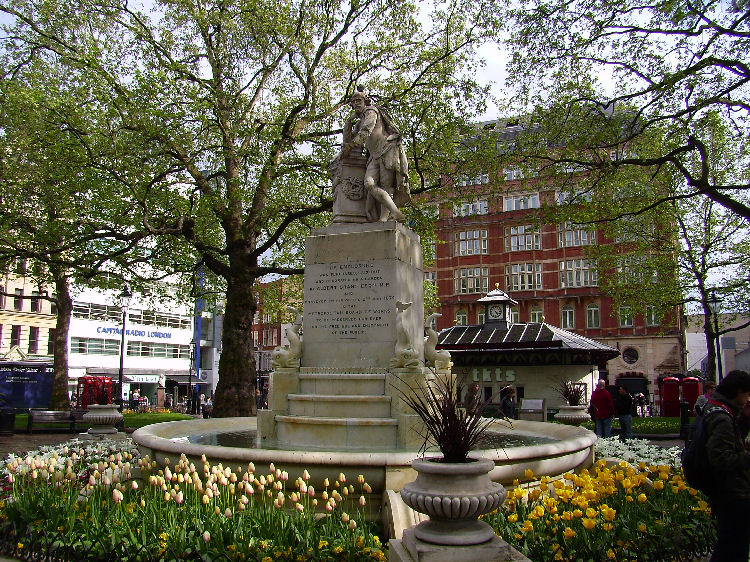 William Shakespeare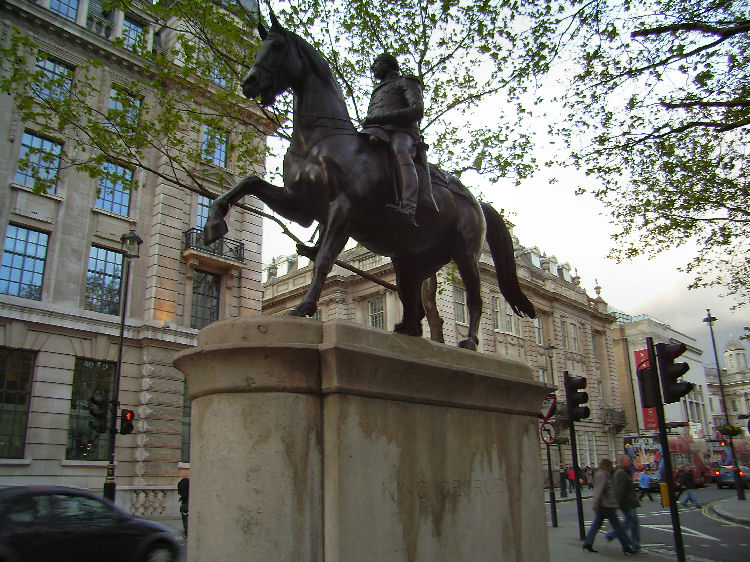 King George III.
King George 111 was born Norfolk House, St. James Square, London, June 4, 1738. He ascended to the Throne: October 25, 1760 and was crowned at Westminster Abbey, on September 22, 1761. He married: Charlotte, daughter of Duke of Mecklenburg-Strelitz. and had ten sons and six daughters. American colonies were lost in the American Revolutionary War, which led to the establishment of the United States. Later, the kingdom became involved in a series of wars against revolutionary and Napoleonic France, which finally concluded in the defeat of Napoleon in 1815. Later in his reign, George III suffered from recurrent and, eventually, permanent mental illness. This baffled medical science at the time, although it is now generally thought that he suffered from the blood disease Porphyria, that can be triggered by the poison arsenic, and recent studies have shown high levels of arsenic in locks of King George's hair. After a final relapse in 1810, his eldest son, George, Prince of Wales ruled as Prince Regent. King George 111 died at Windsor on January 29, 1820, and was buried in St. Georges Chapel, Windsor.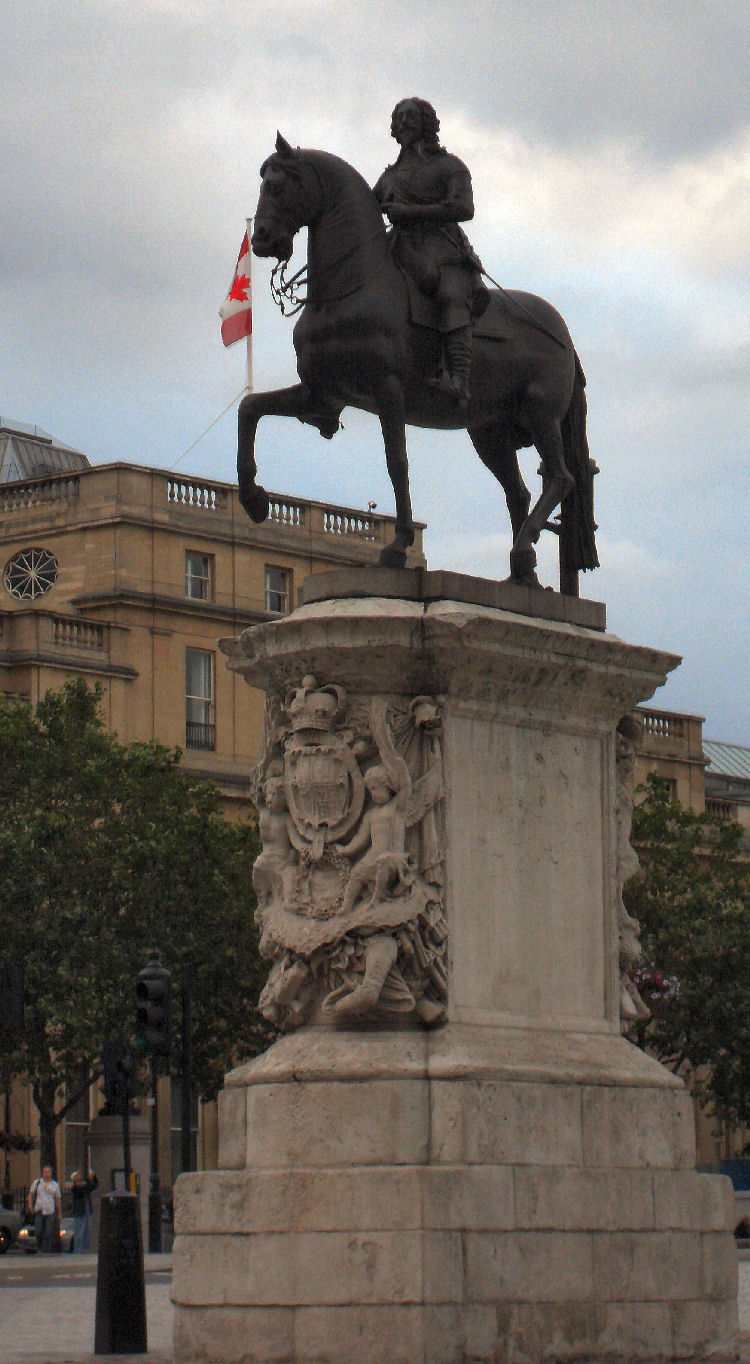 King Charles I Statue of 1633 is the oldest bronze statue in Britain.
When Oliver Cromwellís Republican government executed King Charles I at nearby Banqueting House, this statue was removed from its position and handed over to a brazier by the name of John Rivett with instructions for it to be melted down as scrap. Rivett managed to conceal the statue in the vaults of nearby St Paulís church, Covent Garden. Pieces of bronze vases and figurines were sold as Supposed relicts from the original Kings Statue. After the Restoration, the statue was brought out again only to be re-erected in its former position where it still stands on the stone base pedestal, that was built by Sir Christopher Wren, with the carving by Grinling Gibbons on what is nowadays part of a busy round-a-bout at the Southside of Trafalgar Square.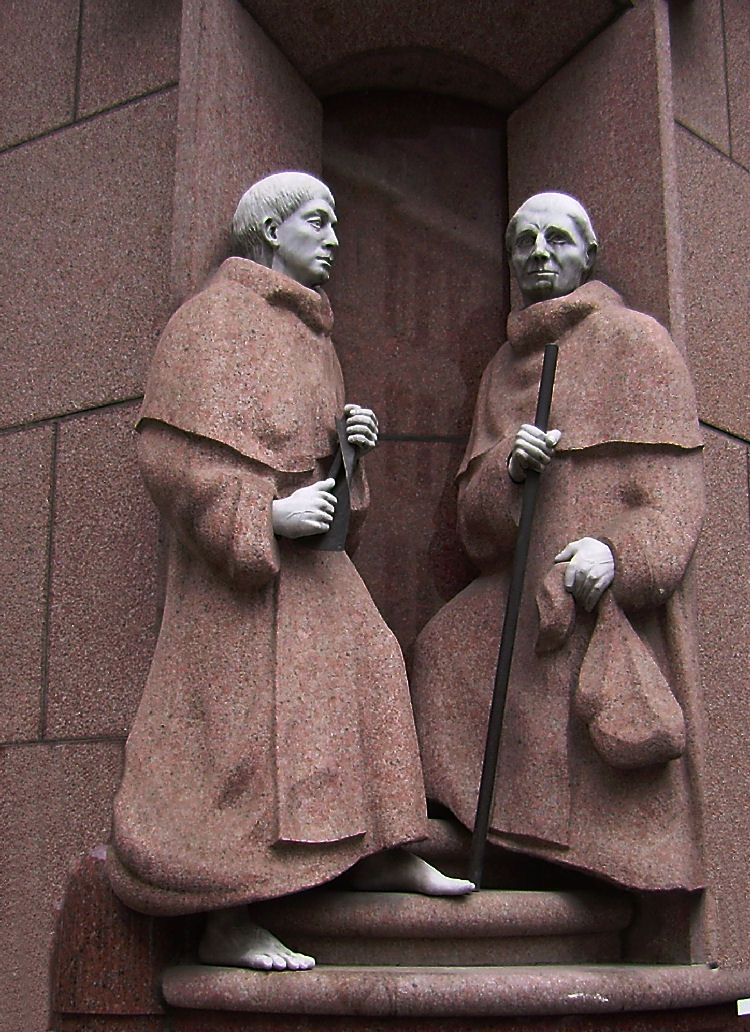 The Crutched Friars.
This modern-day sculpture is hidden on the window ledge of an office block in Crutched Friars, near the Aldgate end. Because of the colours blending well with the building and its diagonal alcove, it passes by unnoticed to the unobservant passers-by.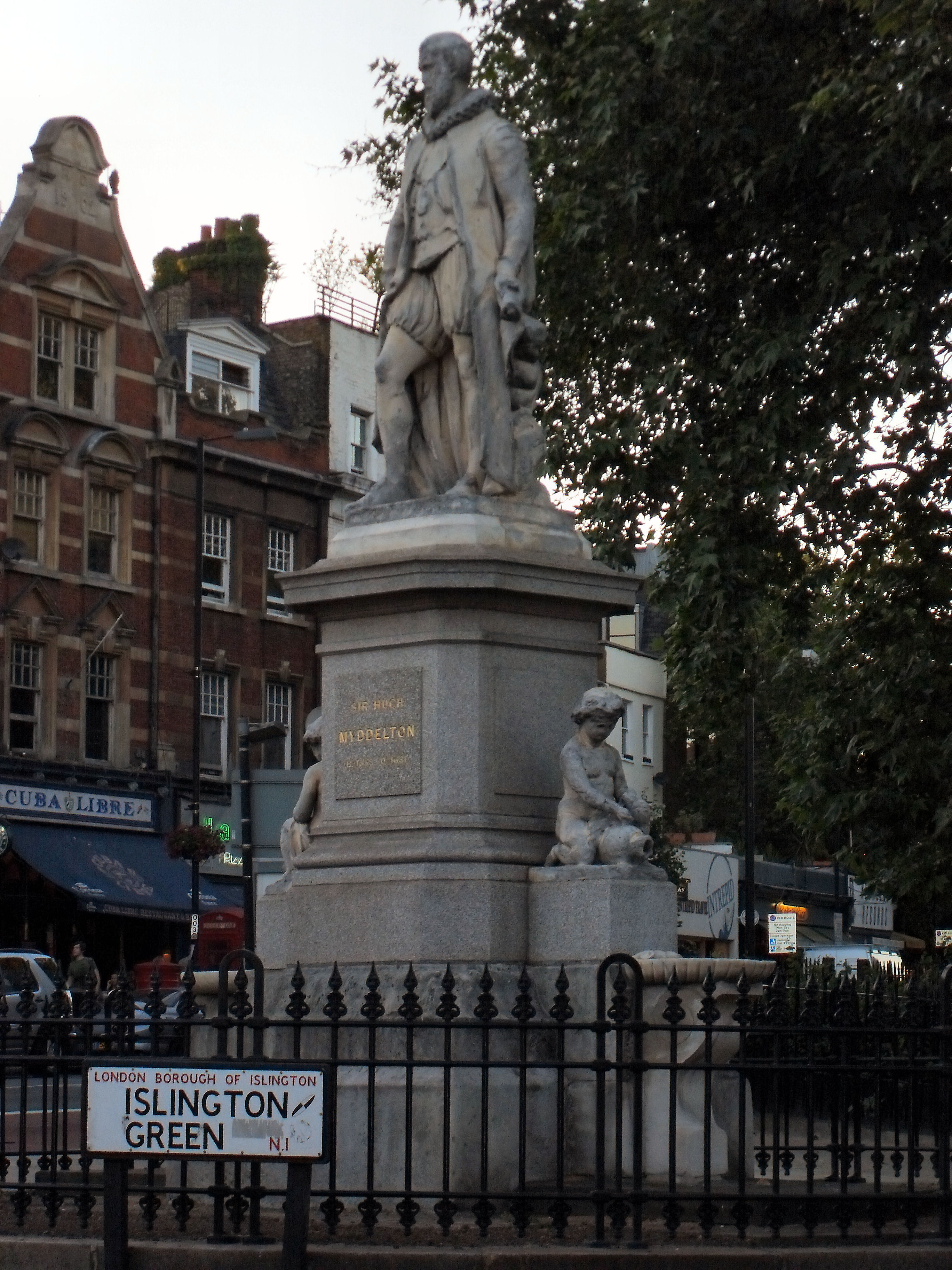 Sir Hugh Myddleton Statue Islington Green.
Sir Hugh Myddleton the former Royal Jeweller to King James I was Responsible for bringing fresh water to London from Amwell in Hertfordshire. Financed in part by King James I, with Myddelton helping also to fund the project through to completion. Starting the project in 1609 with the aqueduct being completed in 1613, and finishing in Amwell Street, London E.C.1, covering a distance at the time of 38 miles. Nowadays only providing water for about 8% of Londonís daily supplies. Islington is awash with reminders of this Great man in names like Myddelton Square and Myddelton Passage; Hugh Myddelton Primary School in Myddelton Street; and of course Amwell Street.

Captain James Cook's statue in The Mall, designed by Sir T. Brook, 1914.
Captain James Cook was born in Yorkshire in 1739. After various jobs, he joined the Merchant Navy and then the Royal Navy. His London connection started with the marriage to Elizabeth Batts, whose father Samuel Batts was the Landlord of the Bell Inn, Wapping, East London. When not following his navy career his home was at 88 Mile End Road, Stepney. He was murdered in Hawaii in February 1779.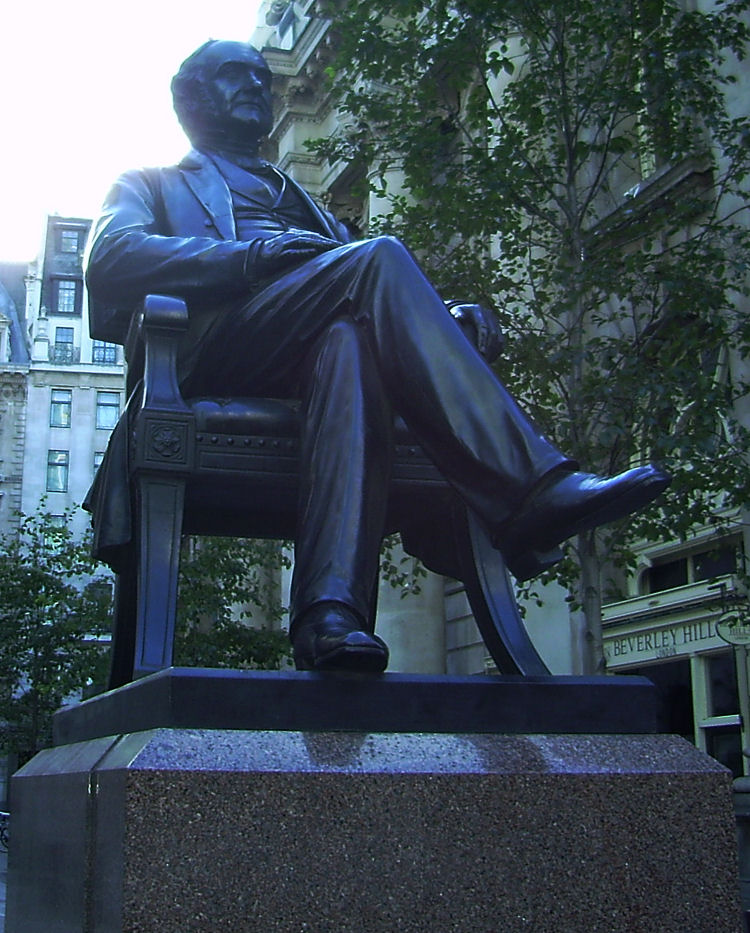 George Peabody
The seated statue of George Peabody in the Royal Exchange Buildings, a grocer who was born in Massachusetts U.S.A in 1795, and who spent a fortune building houses for the poor of London. Peabody Trust Buildings can still be seen throughout London with the first of these such buildings being built off Folgate Street E.1.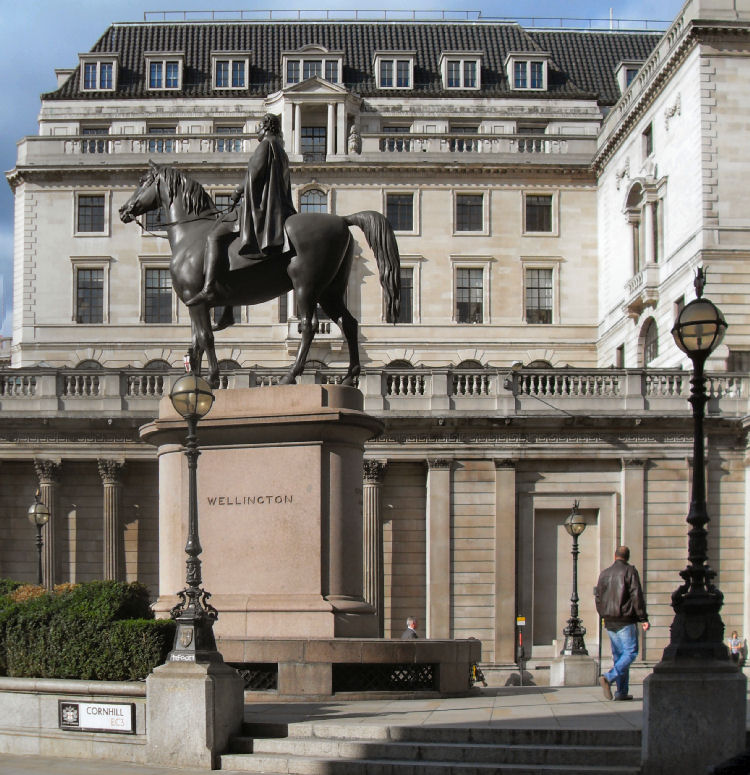 Duke of Wellington Statue, Bank Junction.
This statue was sculptured by Francis Chantrey from French cannons seized by Wellington during his battles in the Napoleonic wars. Known as the Iron Duke, Wellington was one of Britainís national heroes. His Iron funeral carriage, which is also made from French cannons, can still be seen in the crypt of St Paulís Cathedral. This Statue was cast without stirrups, denoting that Wellington was still living during this time. Wellingtonís name still lives on with the famous boots that he styled and rightly named Wellington Boots.
The contents of this website are the property of knowledgeoflondon.com and therefore must not be reproduced without permission. Every effort is made to ensure the details contained on this website are correct, however, we cannot accept responsibility for errors and omissions.


Follow us on Twitter
Our time is FREE!
Is the information and enjoyment enough to donate towards our running costs?