Sherlock Holmes The Man Who Never Lived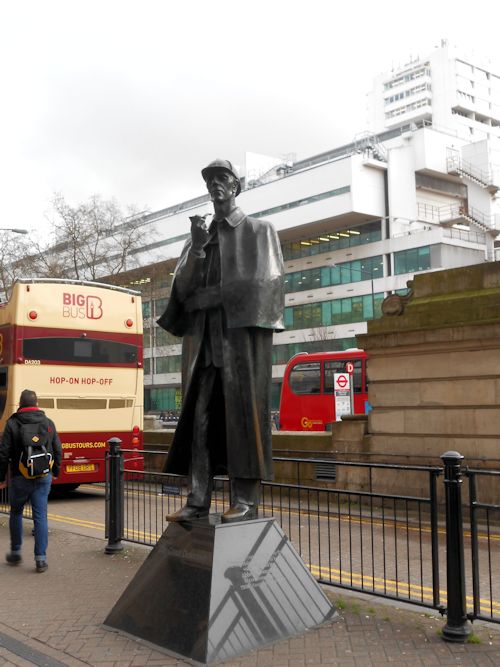 To most tourists Baker Street conjures up scenes of Victorian London and the world's most famous detective Sherlock Holmes. The fictional address of 221b Baker Street is famous the world over as the residency of Sherlock Holmes, created by a medical doctor Arthur Conan Doyle (later to become Sir Arthur Conan Doyle). At the time when Doyle was looking for a suitable address for Holmes, Baker Street was a high-class residential street mainly of Georgian terraces, where the door numbers didn't go up as high as 221.

The Original Adventures of
Sherlock Holmes
Doyle the Scottish born son of Irish parents moved to London in 1891 and rented rooms first at 23 Montague Place, Bloomsbury and subsequently at 12 Tennison Road, South Norwood. He opened a medical practice only a few streets away from Baker Street at 2 Devonshire Place. Doyle magically described scenes of Victorian London with plenty of fog and Hansom Cabs; in fact, you cannot imagine Holmes without him constantly using a Hackney Carriage. Cabs were often described in the stories splashing their way along the streets with the stamping of horses hoofs with the clattering of the wheels on cobblestone roads. Even in the recent BBC series filmed in modern day London staring Benedict Cumberbatch there are plenty of TX taxis being used (never minicabs). In the only known filmed interview with Conan Doyle, recorded in 1927, wherein he explains how his former professor Joseph Bell, whose analytic method he admired, was the inspiration for the Holmes character; "It is most certainly to you that I owe Sherlock Holmes," he told him. He also revealed how he hated detective stories written before his own, which never explained how the crimes were solved – one of the things he certainly made sure to change!
The Great Detective Documentary
London Time

The contents of this website are the property of knowledgeoflondon.com and therefore must not be reproduced without permission. Every effort is made to ensure the details contained on this website are correct, however, we cannot accept responsibility for errors and omissions.

Contact Us | Advertise