Little Eva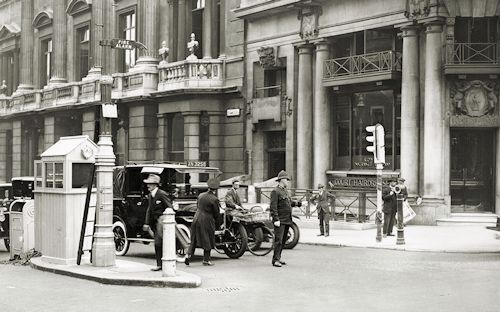 St James's Street, Piccadilly
Nowadays in London we have so many traffic lights, which take an eternity to change from red to green, we could be excused for thinking that some of them are an unnecessary nuisance.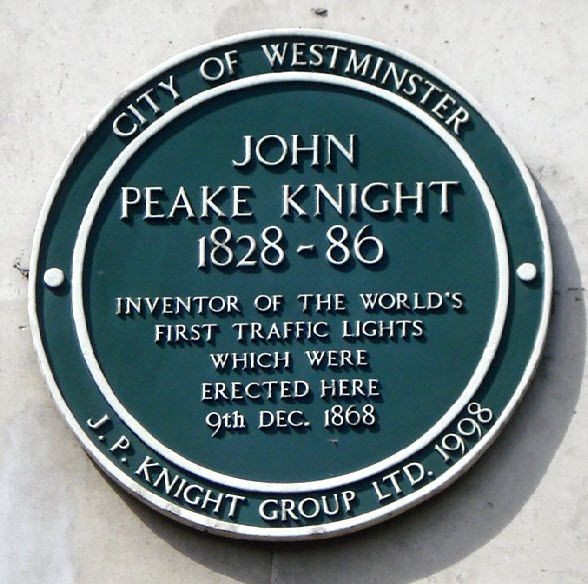 The very first set of traffic lights in the U.K was set-up outside the Houses of Parliament in Bridge Street in 1868. The invention was credited to railway engineer
John Peake Knight
, to help M.P's crossing the road by stopping horse-drawn vehicles. During the day the lights comprised a set of semaphore arms that looked like a railway signal. At night a revolving gas lantern with red and green signals was used, controlled by a police constable. There was no amber light at the time so the PC would blow a whistle to indicate when the signals were about to change. These gas-powered manual signals were short-lived, as, on the night of January 2, 1869, a leak from one of the gas lines caused an explosion which injured the policeman operating it. Due to the safety fears, this raised the signals in this form were not used again.
Earnest Sirrine
from Chicago patented the first automated traffic control system in 1910. It used the words "STOP" and "PROCEED." The first traffic lights to appear in Britain were in London, on the junction between St James's Street and Piccadilly, in 1926. They were operated manually by policemen using switches. The first fully automatic electric traffic lights were at Piccadilly Circus in 1937; they were called "Robot Traffic Lights" and this first one is affectionately known as "Little Eva." Crowds of people assembled at Piccadilly Circus to watch the then Minister of Transport, Wilfrid Ashley, switching on our first "Robot" traffic lights.
London Time

The contents of this website are the property of knowledgeoflondon.com and therefore must not be reproduced without permission. Every effort is made to ensure the details contained on this website are correct, however, we cannot accept responsibility for errors and omissions.

Contact Us | Advertise