A Bridge Too Far
The original Rennie's London Bridge arch which they left behind
How many times have visitors from the United States of America visited London Bridge – when what they really want to see is Tower Bridge? This mistake can happen quite often, as Tower Bridge to American's is known as "London Bridge." This mistake is not too much of a problem for an American tourist who might end up making a short diversion after visiting the wrong bridge, but what if he were sent over to England to buy London Bridge? Believe it or not this mistake actually happened during the early negotiations in the 1960's when it was first announced that London Bridge was up for sale! Of course long before any serious negotiations were under way the mistake was realised, and for the handsome sum of £1m, (less than the cost of many surrounding apartments today) London Bridge was sold.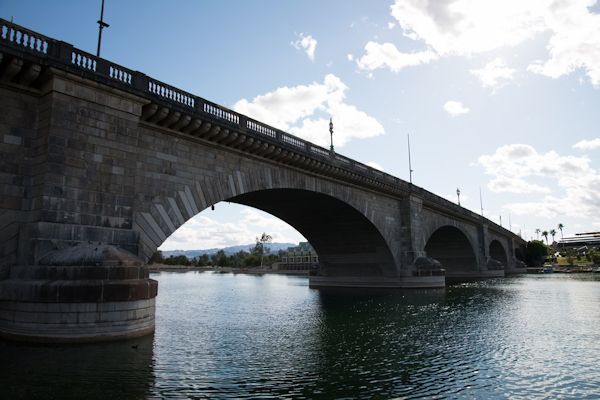 London Bridge rebuilt at Lake Havasu City, Western Arizona
Since 1971, John Rennie's "London Bridge" has stood at Lake Havasu City, Western Arizona, which is about 150 miles away from Las Vegas– or should I say most of the old London Bridge is there! The next time you are travelling through the private road behind Southwark Cathedral, which leads you from Montague Square through to Duke Street Hill and Tooley Street – have a good look at the arch which leads you under London Bridge – you are looking at the original Rennie's London Bridge which is 5,862 miles away from the rest of it!
London Time

The contents of this website are the property of knowledgeoflondon.com and therefore must not be reproduced without permission. Every effort is made to ensure the details contained on this website are correct, however, we cannot accept responsibility for errors and omissions.

Contact Us | Advertise