The London MarketsThere are 12 London markets in our guide they are;

Camden
Market
Camden is a trendy Market and gets very busy on Sunday, and usually close Camden underground station for safety reasons. Camden Lock Market, the nerve-centre of the area, attracts the biggest crowds. This market, which has grown swiftly in size since opening in 1974, has a cobbled courtyard leading towards the Regent's Canal. Stalls here specialize in handmade crafts, new and secondhand street fashions, vegetarian fast-food, books, records and antiques.
Portobello
Market
Portobello Road is a narrow, winding thoroughfare, in the middle of Notting Hill. A market has been held here since 1837, and today is really three or four markets rolled into one. At the Notting Hill end, there are over 2,000 stalls selling antiques, jewellery, paintings, coins, medals, silverware and collectables. All the stallholders here are experts so don't expect too many bargains. This area also has cafés, bars, restaurants and delicatessens. Further down the hill are fruit and vegetable stalls. The section around Westbourne Park Road and Talbot Road was made famous in the film 'Notting Hill', which starred Hugh Grant and Julia Roberts. Portobello is both an excellent antique market and also good for general shopping like fruit and veg etc. Open for Antiques: Sat: 4: AM-6: PM
Bermondsey
Antiques Market (Caledonian market)Open: Friday Early mornings only, from 5 AM to about 9: AM. It is called the Caledonian because it was originally in Caledonian road and moved to Tower bridge road Bermondsey shortly after world war 2. It is the best antique market and has a lot of trade dealers who buy there.
Borough Market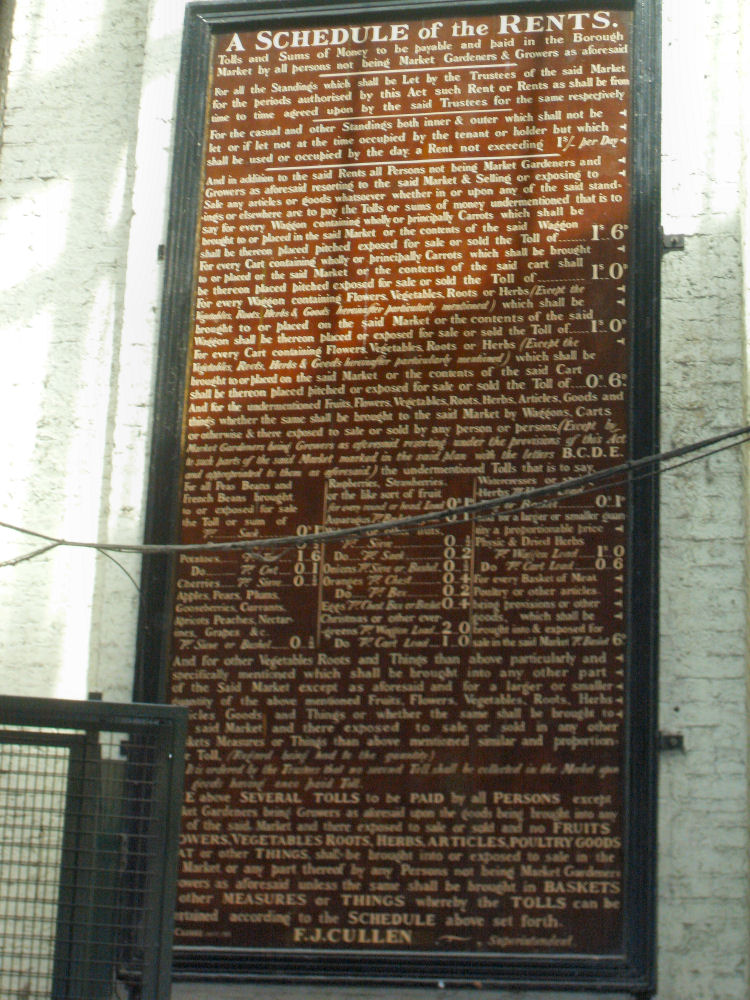 This fruit and vegetable market spreads out in an L-shape beneath the railway tracks running into London Bridge. Borough Market is the successor to a medieval market, held on London Bridge. In 1276 the market was moved to Borough High Street to avoid congestion and was moved again in 1756 for the same reason. The buildings of its present location date from 1851.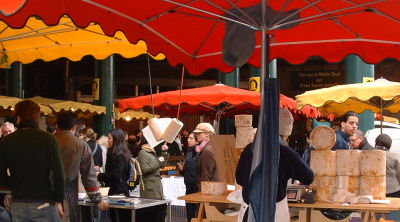 The Borough Market on a Friday with a good food selection.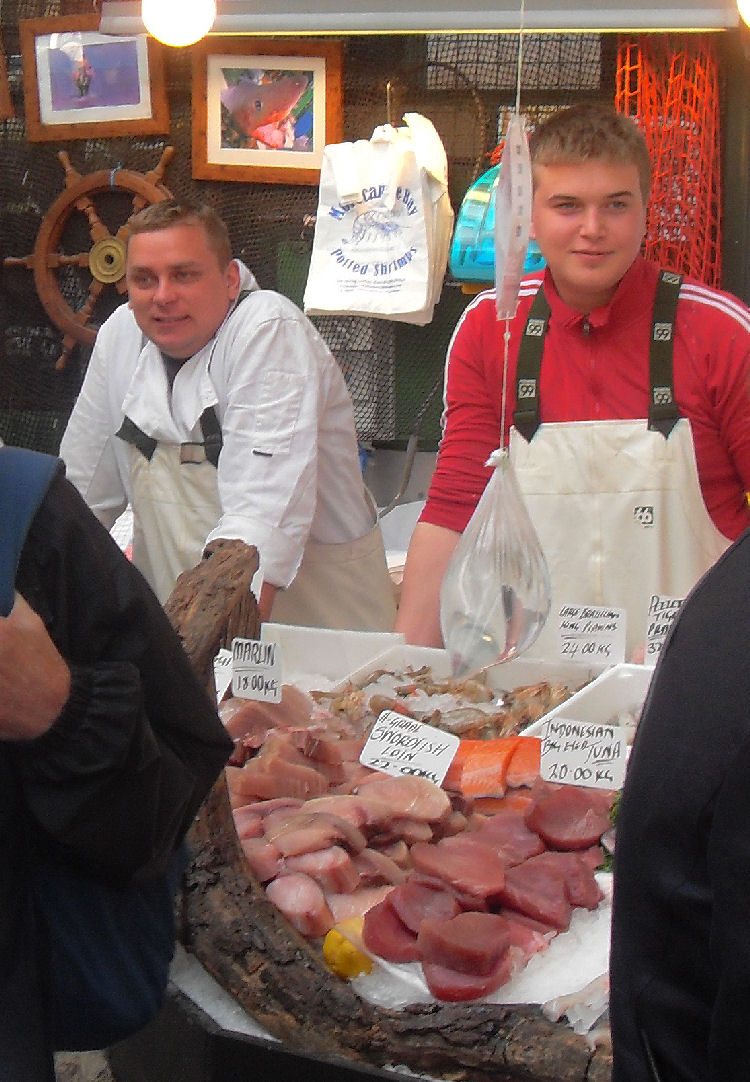 Spitalfields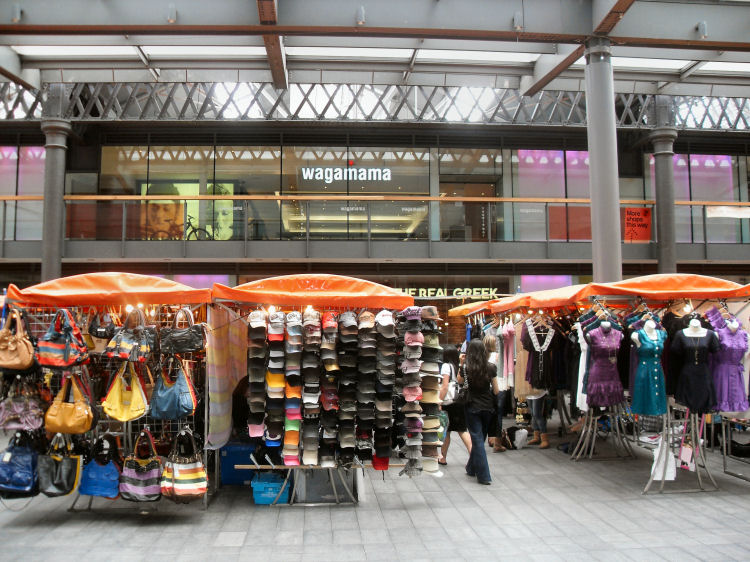 Open Sunday;
It has become quite trendy as late and is something of a new Covent Garden, being the same type of buildings. The famous fruit and vegetable market, established in 1682, moved north-east to Leyton some time ago. In its place is an organic food market, surrounded by many other market traders. Through the week there are crafts, junk and antique stalls but on Fridays and Sundays that the market really comes alive. Spitalfields Market has around a dozen organic stalls offering produce that includes fruit and vegetables, herbs, spices, pickles, relishes, bread and cakes. You can sample the cheap tasty food available in the food court.
Petticoat
Lane
Open Sunday; Sited in Middlesex Street Whitechapel, and surounding areas, very popular with locals.Probably the most famous and oldest of all London's street markets, Petticoat Lane was started over 400 years ago and still attracts visitors from all over the world. The Huguenots who came to London from France sold petticoats and lace here but the prudish Victorians changed the name of the Lane and market to avoid referring to woman's underclothes! The market actually takes place in Wentworth Street Sunday is the main day from 9.00 to 14.00 with 10 separate trading streets including Middlesex Street. You'll find bargains of every kind, including new clothes from well-known chain stores as well as leather goods, watches and toys.
Covent Garden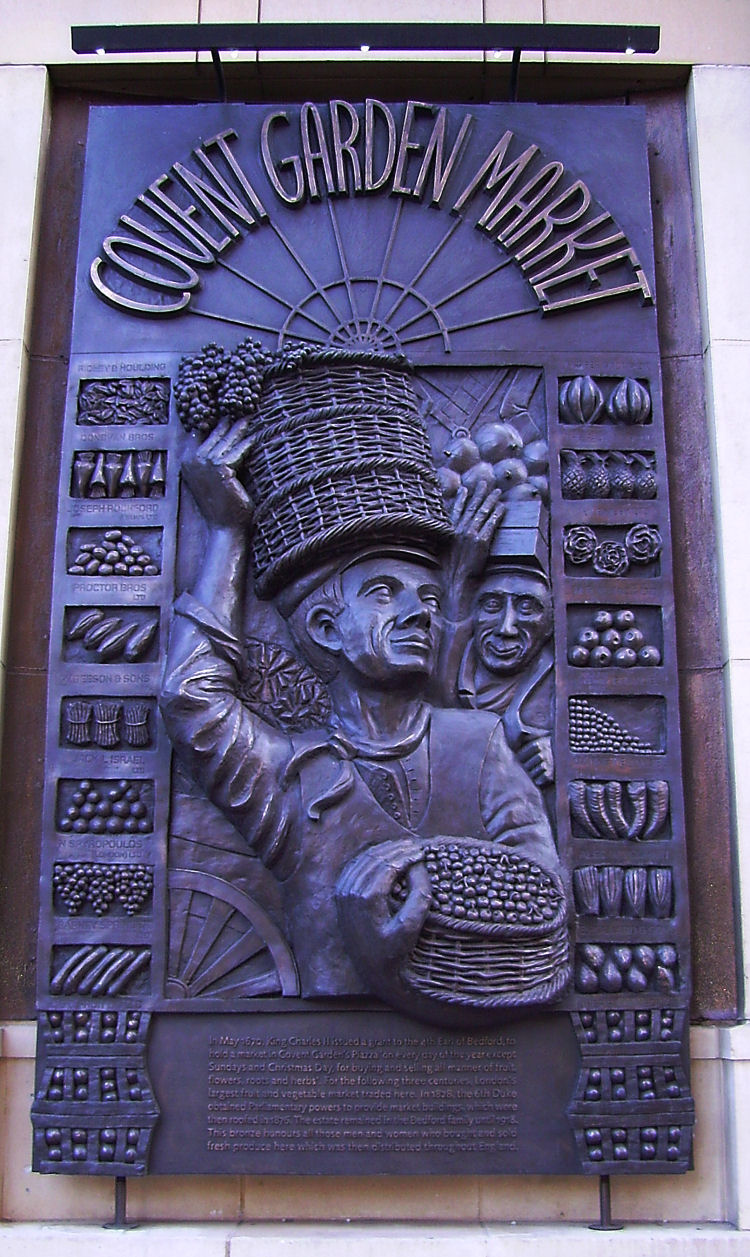 A plaque commemorating the wholesale fruit and veg market.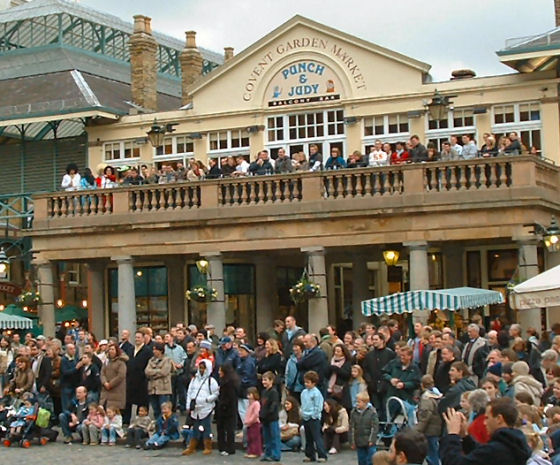 Covent Garden was started in the middle ages buy Nuns who sold their own fruit and veg grown at the local monastery, and first known as Convent Market. Famous seller of Oranges and Mistress to King Charles the 2nd was Nell Gwen.
The most entertaining of the London markets, with sideshows, Juggler's, Singers, in fact, anything and everything goes on there. Nice area with plenty of good restaurants in Covent Garden, be prepared to spend most of the day there. Hour 9:AM-6:PM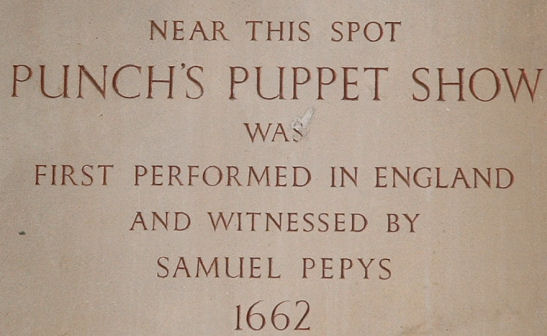 The Flower Market
Is only open on Sunday, and tends to get very busy, so get there early to avoid the rush. Columbia Road Flower Market, set in a road of Victorian shops, is the capital's most colourful and sweet-smelling market. It was established in 1869 as a covered food market set in a neo-Gothic palace, but the traders preferred to conduct their business on the street and the venture failed.In 1958 the short-lived market building was demolished to make way for today's flower market. A visit to this market, with its flowers, shrubs, bedding plants and other horticultural delights, is one of the best ways to spend a Sunday morning.
Church Street Lisson Grove
was not mentioned in the rate books until 1783, but it is clear that in the Domesday book, that there were eight families living there in 1086, and the name goes back before the Norman Conquest and was the manor of Lileston. Church Street market has been on this site since the 1830's and is a flourishing market to this day. The Edgware road end sells fruit and vegetables, while at the other end (Lisson Grove) is home to the Antique traders. Some have their own shops while most trade from Alfies Antique Market, which was set up in 1976 in the old Jordans department store. There are about two hundred dealers, specializing in decorative antiques, gardening things, furniture, jewellery, toys, prints, and 20th-century design classics. Although open to the public, it is predominantly a dealers market and is therefore very competitively priced and off the tourist maps. Easy to get to, about 10 minutes walk from Baker street station, and close to Madame Tussaud's and the Planetarium. Shopping there remains a pleasure with out the crowds of Portobello.
Open: Tuesday to Saturday 10:00 to 18:00
Camden Passage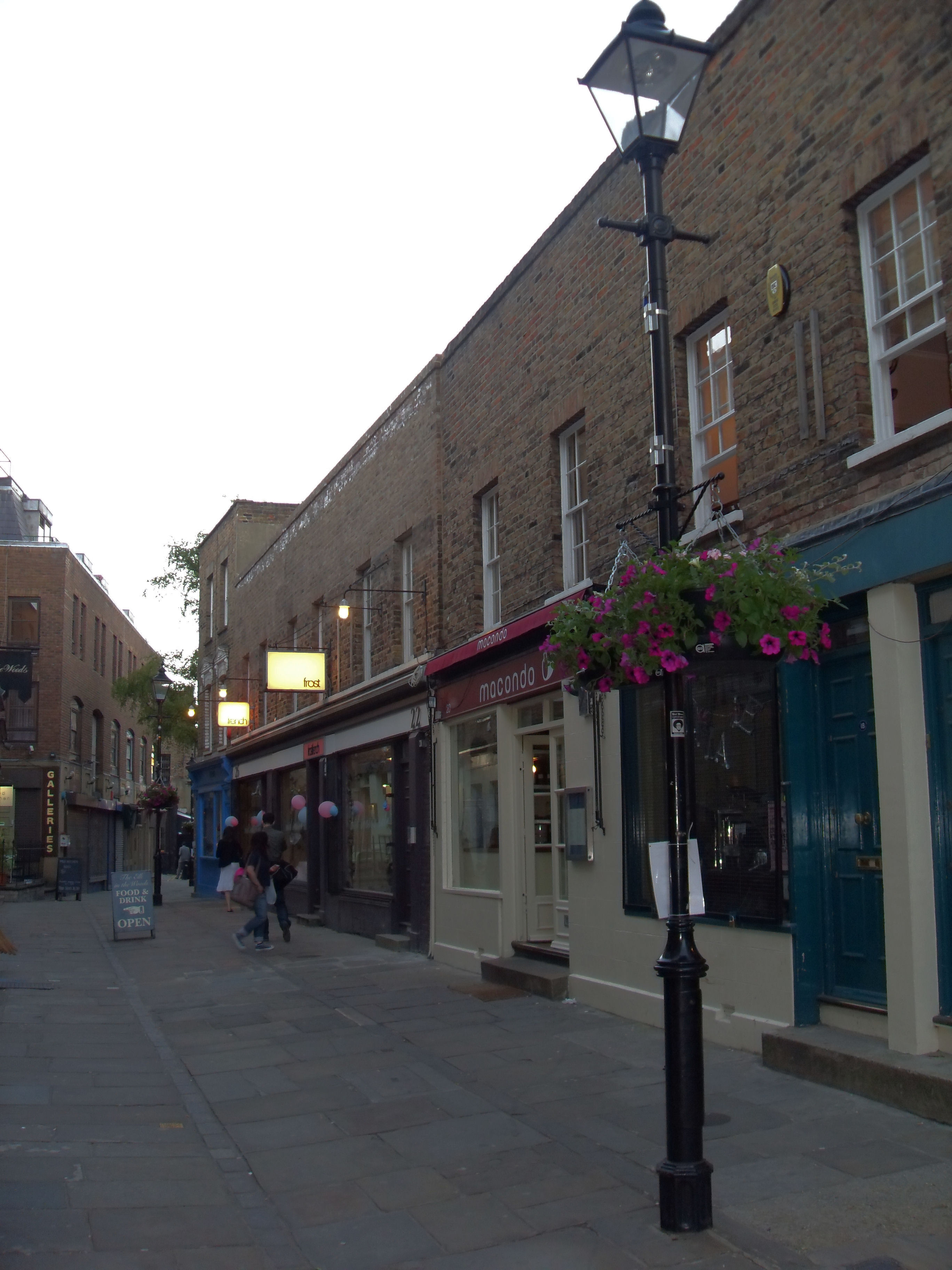 The name might suggest it, but Camden Passage is nowhere near Camden Town. In 1855 the Metropolitan Cattle Market moved from Smithfield to Islington. Out of this development, the great bric-a-brac Market known as the Caledonian Market was formed. That Market closed during World War 11. Bomb damage and relocate in Bermondsey (see Bermondsey Market).
The Caledonian's successor is a far more recent development. Started in the early 1960's, as Islington became more trendy, it very soon became internationally renowned. The narrow alleyway is now home to hundreds of antique dealers.
Open: Wednesday 7:00 to 14:00 and Saturday 8:00 to 16:00 5 mins from the Angel tube Islington.
Leadenhall Market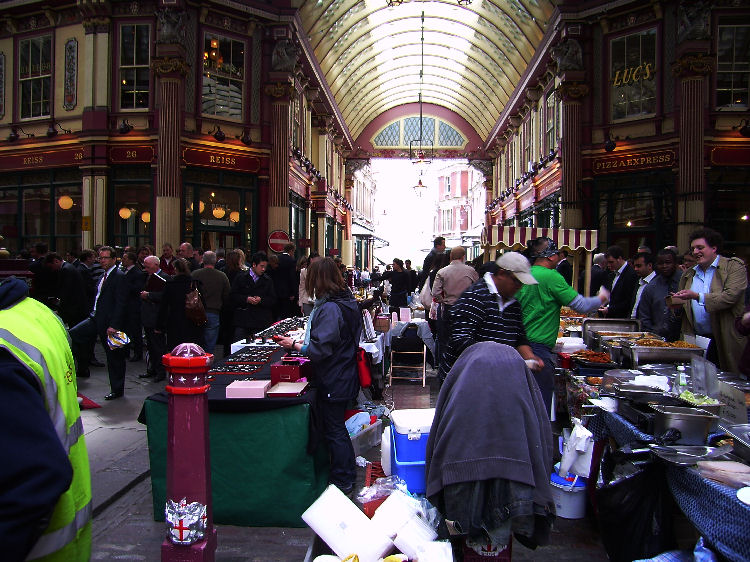 This market, one of London's oldest, that dates back to the fourteenth century. It is open from 07:00-16:00 Monday to Friday, and sells fresh food; among the vendors there are cheesemongers, butchers and fishmongers. The ornate roof structure painted green, maroon and cream, and cobbled floors of the current building, designed in 1881 by Sir Horace Jones (who was also the architect of Billingsgate and Smithfield Markets), make the building a tourist attraction. It was used to represent the area of London near The Leaky Cauldron and Diagon Alley in the film Harry Potter and the Philosopher's Stone. It is also popular among local city workers specifically from the nearby Lloyd's Building.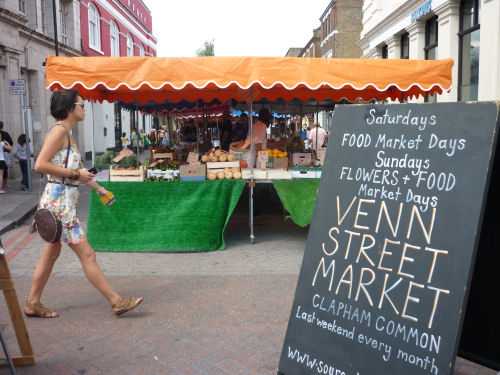 FOOD, PLANTS & CRAFT MARKET
CLAPHAM COMMON, SW4
Venn Street Market is a monthly street market which takes place on Saturdays and Sundays on the last weekend of every month. Saturdays are FOOD market days and Sundays are FOOD market days with PLANTS and CRAFTS. Venn Street Market has a fantastic range of artisan produce and is a genuine alternative to shopping in the aisles of supermarkets whilst also supporting the local community. Our FOOD traders have been sourced from all over London whilst including Clapham's award-winning local butcher Moen & Sons and London's first organic bakers The Old Post Office who started out on Venn Street itself 30 years ago. Additionally, there are a number of Borough Market favourites such as Neal's Yard Dairy, Pieminister, Comptoir Gourmand and Gastronomica. There will be the chance to try an array of delicious hot food from a number of traders including Gastro, Mothers Dumplings, Portena, Rapscallion and The Cumbrian Sausage Company. We are also delighted to introduce The Manor Arms, Clapham's local ale house to Venn Street Market as our regular providers of British craft brewed ales. Sunday's PLANT traders provide a diverse mix of mainly British and locally sourced cut flowers and garden plants. Specialist growers and nurseries from England's South East have been selected for their expertise in horticulture so we can deliver a dedicated flower market for South London residents and beyond. Specialist contributors include Cuckoo Box Nursery, Meadowgate Nursery, Paradise Plants, Phoenix Perennials, Usual & Unusual Plants and W & S Lockyer, to name a few. The CRAFT section on Sundays receives regular support from printmakers such as All Cats Are Grey; publishers including OKIDO and African stonewares from Mara Sculpture. Venn Street Market aims to encourage flower, plant and food production, better reflect the seasonal nature of food and plants, reduce produce mileage and packaging and support the local economy.
Venn Street Map Location
Map of 18 central markets and opening times.
The contents of this website are the property of knowledgeoflondon.com and therefore must not be reproduced without permission. Every effort is made to ensure the details contained on this website are correct, however, we cannot accept responsibility for errors and omissions.


Follow us on Twitter
Our time is FREE!
Is the information and enjoyment enough to donate towards our running costs?